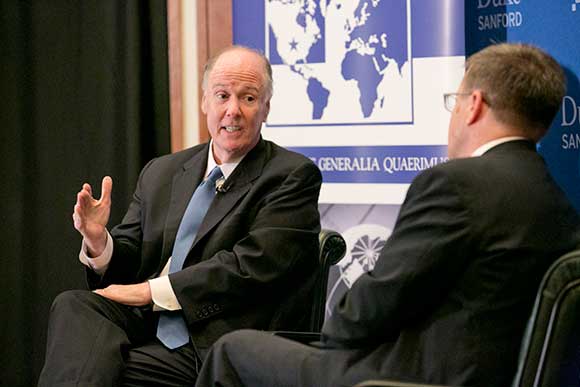 Tom Donilon talks with Professor Peter Feaver about the changing dynamics of global terrorism. Photo by Les Todd/Duke Photography
The world is living through a period of extraordinary instability and volatility, "at the front end of a new and dangerous era," former U.S. national security adviser Tom Donilon said Thursday.
ISIS, the terrorist organization whose attacks in Paris and Beirut and bombing of a Russian passenger plane killed more than 400 people in the last three weeks, is "metastasized" terrorism, he said.
Donilon addressed a capacity crowd at the Sanford School of Public Policy for the Ambassador Dave and Kay Phillips Family International Lecture. Peter Feaver, Duke professor of political science and public policy, interviewed Donilon in the public forum.
Donilon served as national security adviser to President Barack Obama from 2010 to 2013. His roles included coordination and integration of the administration's foreign policy, intelligence, and military efforts. He previously advised presidents Clinton and Carter.
While al-Qaida sought to inflict mass casualties and screened recruits carefully for large-scale operations, Donilon said, ISIS is operating an "indiscriminant franchise" that is attracting multiple thousands of adherents to help pursue its goal of being the leading jihadist organization in the world. 
It is succeeding, he said. 
More than 30,000 people have reportedly gone to Syria from more than 100 countries, he said – a "terrorist diaspora that is way beyond the number that went to Afghanistan." National security agencies do not know the full extent of ISIS's network, he added.
While Donilon was speaking Thursday, the U.S. House passed a bill aimed at adding more hurdles for Syrian refugees fleeing ISIS who seek asylum in the United States, which could reduce the already minimal Syrian resettlement. Syrian refugees already go through a lengthy and rigorous review process, Donilon said. "The situation in the U.S. is not the same as it is in Europe."
"If I were advising the president I would advise him to, after the vacation, meet with the congressional leadership and hear their concerns," he said.
Rather than being focused solely on building a caliphate in Syria and Iraq, ISIS is about "much more than that. … The experts were wrong about this," he said. 
In addition to the number of failed states in the region and the resurgence of sectarianism, ISIS has flourished for other reasons, Donilon said. Its expertise in digital communications and Syria's proximity to Europe are making it a new type of threat. Security weaknesses and "terrible" immigrant assimilation in Europe also are contributing factors, he said.
Looking beyond the Middle East, Donilon singled out Russian President Vladimir Putin for pursuing an aggressive and anti-Western agenda that has increased global volatility and instability. During the quarter century since the dissolution of the Soviet Union, relationships among the major powers were mostly productive and contributed to global security. That is no longer the case, he said. 
"Will Russia cooperate with the U.S. and the West? I don't know. It is in Russia's interest to see ISIS shrink," he said.
Donilon argued that the attacks last week in Paris have removed any doubt about the legality of using force "to defend ourselves." ISIS is "a proto-state with an army that has attacked our ally," he said.
Donilon advised three U.S. presidents, beginning with his first position at the White House in 1977 with President Carter. While he was assistant secretary of state and chief of staff at the U.S. Department of State during the Clinton administration, he was responsible for developing the department's major policy initiatives, including NATO expansion, the Dayton Peace Accords and the Middle East peace process. He is now vice chair of the international law firm of O'Melveny & Myers and a distinguished fellow with the Council on Foreign Relations. 
Donilon's lecture was co-sponsored by the Duke Program in American Grand Strategy and the Department of Political Science.