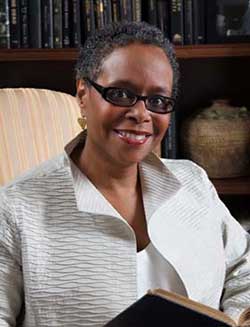 As part of a national initiative announced Friday, Duke students and faculty will engage in research focusing on challenges and opportunities facing women and girls of color and assist in turning that data into policies that will weave their potential into the fabric of community and national citizenship.
The initiative, announced during a White House forum, will be directed by the Collaborative to Advance Equity through Research — an affiliation of 25 American colleges, universities, research organizations, publishers and public interest institutions led by Duke alumna Melissa Harris Perry and the Anna Julia Cooper Center at Wake Forest University.
Karla FC Holloway, James B. Duke Professor of English and Professor of Law, will lead Duke's participation in the initiative and represented Duke at the White House forum. The effort will be housed in the Duke Council on Race and Ethnicity (DCORE).
"This is a significant opportunity for our students, and President Obama's commitment to the potential of women and girls is clearly evident," Holloway said 
"The leadership of our own alum, Melissa Harris-Perry, Presidential Endowed Chair in Politics and International Affairs and Director of the Anna Julia Cooper Center, is emblematic of Duke's reach in the world of public policy and activism," Holloway added. "I was thrilled to represent Duke at the White House and have a glimpse of what the next decade of research at Duke might foster."
As part of Duke's partnership in the collaborative, the university anticipates offering undergraduate research fellowships for students to explore issues affecting women and girls of color.
The Duke undergraduate fellowships will build upon the strong research programs already established in schools across the university, Holloway said. The undergraduate fellows also will have opportunities tocollaborate with peers at Wake Forest and other participating scholars in the Research Triangle, she added.
"I suspect Duke will find one niche in the research focus on health, humanities, and leadership," Holloway said. She cited Duke's collaboration with Smith College scholars on the Merdians journal, which focuses on work by women of color, as well as the work of health psychologist Gary Bennett and the Sanford School's Deondra Rose. Holloway's own class on "Bioethics, Gender and Race" will provide additional opportunities. 
While women and girls of color have in recent years made progress that has closed outcome gaps in health, education and other metrics, the White House forum Friday made clear that much work is left to be done and research is needed to increase opportunities for them. (Watch forum here.)
In addition to the $18 million research collaborative, President Obama also announced at the forum a $100 million, 5-year-funding initiative by a coalition of 30 women-run foundations to improve economic prosperity for low-income women.
The day of panels covered areas where women and girls of color still faced obstacles to success, from disproportionate treatment in the criminal justice system to underrepresentation in science and technology fields. The panels focused on issues of education, media images, economic stability, health and justice: The message was there are solutions out there.
"It was quite a day," said Holloway. "The panels throughout the day were inspired, and both Valerie Jarrett and Attorney General Loretta Lynch, who were there for significant portions of the day, made it all quite extraordinary."