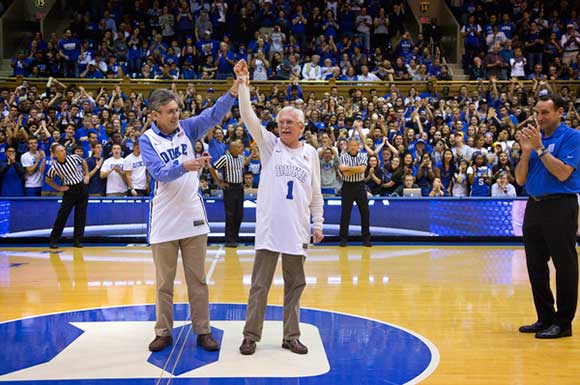 Duke's two Nobel Prize laureates took center court Saturday at Cameron Indoor Stadium during the men's basketball team's annual "Countdown to Craziness" inaugural practice.
The defending national champions honored Paul Modrich, James B. Duke Professor in the Department of Biochemistry, who recently won the Nobel Prize in Chemistry, by presenting him with a jersey on court. Modrich was accompanied by Robert Lefkowitz, James B. Duke Professor of Medicine, who received the Nobel Prize in Chemistry in 2012.
A member of the Duke faculty since 1976, Modrich has conducted four decades of work exploring how mistakes in the DNA code are repaired.
Other on-court activities included performances by Duke cheerleaders, dance teams and vocal ensembles and the raising of the 2015 national championship banner.  For more on Countdown to Craziness, go to GoDuke.com.
Photo by Jon Gardiner/Duke Photography