Memorial Service for Former Trinity Dean Ernestine Friedl Set for Oct. 23
[Updated] The memorial service for Ernestine Friedl, an internationally known anthropologist and first female dean of Trinity College of Arts & Sciences, will be held at 3 p.m. Friday, Oct. 23, in Baldwin Auditorium. A reception will follow in the Friedl Building, the East Campus humanities facility named after her.
Friedl died Oct. 12 at The Cedars in Chapel Hill. She was 95.
Her deanship was significant as a new structure at Duke, combining the deanship of students in Trinity College with the deanship of the faculty of Arts & Sciences, which were previously separate positions. As dean of Trinity College of Arts &Sciences, Friedl added faculty and supported promising departments and units, such as the Primate Center, the Marine Lab, and the Art Museum.
She launched initiatives to hire senior women and black faculty, to improve advising and teaching, and to make study abroad more feasible. During her tenure as dean, the Women's Studies Program at Duke was established.
In 2008, the building that housed the art museum on East Campus was renovated as a center of learning for the humanities and social sciences and named after her. The Friedl Building now houses the departments of African & African American Studies and Cultural Anthropology, Literature and other humanities programs.
"Her legacy is all around us," said Duke President Richard H. Brodhead at the building's reopening.  He hailed Friedl for being an "innovative scholar, breaking intellectual and disciplinary boundaries," a "builder of great faculty" and a "person of ever-young spirit, with a warmth and humanity that endears her to all."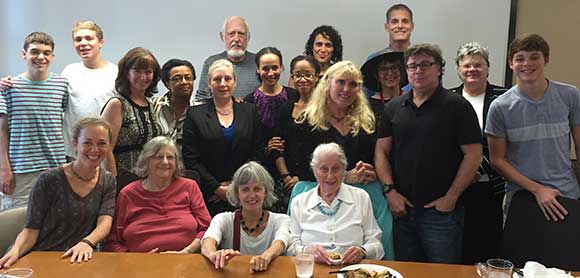 Ernestine Friedl, front right, at a reception earlier this month at the Department of Cultural Anthropology.
Born in Hungary, Friedl emigrated to the United States when she was two.  She developed her interest in anthropology while an undergraduate student at Hunter College. .She received her Ph.D. at Columbia in 1950, writing her dissertation on the political leadership and organization of the Chippewas in Wisconsin.
After earning her Ph.D., Friedl taught at Wellesley College and Queens College of the City of New York and was one of the few anthropologists at the time who applied the tools of the discipline to study modern Europe. Friedl's fieldwork in a Greek village was the first published study on modern Greece.  The 1962 book, "Vasilika: A Village in Modern Greece," is still regularly cited in the field. In other pathbreaking works, Friedl used the tools of anthropology to explore gender roles.
She came to Duke in 1973 to chair the newly formed Department of Anthropology. She became Duke's first woman dean of Trinity College and the faculty of arts and sciences from 1980 to 1985.
She retired as James B. Duke Professor Emerita, but maintained regular contact with department faculty. "Ernie would come to departmental talks almost all the time," said Charles Piot, chair of the Department of Cultural Anthropology. "She kept up with everything and asked lots of questions.  She was always very supportive of us and the junior people in the department."
Just two weeks ago, her granddaughter organized a departmental luncheon for her inside the building named after her. "It was a joyous, wonderful event for everyone. Ernie got to meet everyone and was very interested in what they were working on," Piot said.
Nationally, Friedl was one of the most noted scholars in her field. She was elected a Fellow of the American Academy of Arts and Sciences in 1976 and served as president of the American Ethnological Society in 1967.  She was appointed in 1978 by President Carter to the National Science Board, which oversees the activities of the National Science Foundation. In 1970, Friedl participated in the Committee on the Status of Women in Anthropology as part of the American Anthropological Association, later serving as its president from 1974 to 1975.
She was married to classical studies Professor Harry L. Levy. Later she married Dr. Merel Harmel, the founding chair of Duke's Department of Anesthesiology.