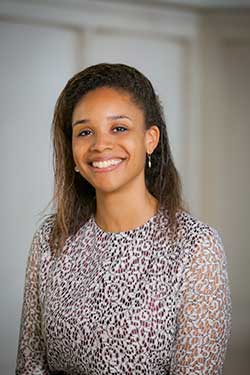 You don't expect to find a social psychologist among Divinity School faculty, but new faculty member Christena Cleveland says she's feels right at home at Duke's school.
A new hire from Bethel University in St. Paul, Minn., Cleveland is associate professor of the practice of reconciliation and director of the Divinity School's Center for Reconciliation.  
Her appointment represents a new direction for the 10-year-old reconciliation center.  Already known for impressive work in restoring trust and building coalitions in troubled areas of Uganda and throughout East Africa, the center, under Cleveland's leadership, will look to link that international work with domestic efforts focusing on social justice and inequality.
 "I believe reconciliation work everywhere is connected," Cleveland said.  "There are cultural aspects to way reconciliation is practiced, but there are just as many common themes.  As MLK said, injustice anywhere is a threat to justice everywhere."
Cleveland received her Ph.D. in psychology from the University of California, Santa Barbara.  But her research in social psychology has always had theological underpinnings. The daughter of two ministers, Cleveland's work has involved coaching pastors on community issues.
"There's a lot of work to be done. Right now, many divinity students don't see this work as a requirement of the ministry. There's been a shift as black and white churches turned away from the public square since the Civil Rights Era," said Cleveland, who was named by Christianity Today as one of the millennial leaders who are shaping the next generation of Christian faith.
"My interest is in rebuilding the bridge or strengthening weak bridges between the activist community and the church.  We need to teach students to think theologically in their activism. When they go out into the community, they should have a vision for how church can be involved on the ground."
Her book, "Disunity in Christ: Uncovering the Hidden Forces that Keep Us Apart," explores the dynamics behind conflict and divisions among Christians.  It received a 2013 Leadership Journal Book Award. Cleveland is currently writing "The Priesthood of the Privileged," which examines power and inequality in the church.
Reconciliation work "takes insight and wisdom to do it well and most people aren't very good at it," said Craig Dykstra, the Divinity faculty chair of the committee that chose Cleveland. He said faculty members were attracted that Cleveland brought psychology research approaches to the school, as well as her background of combining scholarship with activism.
"She will add to the breadth and depth of the Divinity School's multidisciplinary research and teaching regarding the meaning, dynamics and practice of reconciliation," Dykstra said.  "Likewise, her expertise in the study of congregations and other religious institutions will add significantly to the Divinity School's capacity to train ministers and other religious leaders to foster the wise practice of reconciliation in their congregations, communities and in the world."
Raised in the Oakland area and a recent resident of Minneapolis, Cleveland has spent the first four months on the job learning about Durham, particularly making connections with "hundreds" in the local religious and activist community.
She said she's finding great teachers and collaborators both at Duke and in the community, people who guide her on similarities and distinctive challenges compared to her past work. 
"There's great work being done in Durham," Cleveland said.  "However, like every other city, there also are lots of factions even within the reconciliation community, lots of different ideas of how to do it.  I've talked with Hispanic leaders about how they get pushed out on issues we traditionally see as black and white issues. Nuances like these add to the complexity of the effort, but when it's resolved it adds to the beauty.
"The last thing Durham needs is for me to show up and say 'I have a plan and you have to jump on board.' Reconciliation doesn't work that way; it doesn't honor the community. It is important to me to hear from community what is already being done and how we can support it.  I'm an expert on reconciliation, but I'm new to Durham and the South. I am so pleased people have been willing to talk to me and express their hopes and dreams."
She arrives at the center at a time that many see a crucial moment for the social justice movement. The #BlackLivesMatter movement has galvanized activists, changed the policy agenda and opened opportunities for bipartisan work on issues of inequality.
Cleveland says she believes the movement "picks up where the last civil rights movement left off" and focuses attention on fundamental inequalities that "got lost in a decade of work on diversity."
"BlackLivesMatter calls for us to return to issues of racial and class inequalities.  In the past attention to diversity, some of these issues got overlooked, issues such as a return to a new Jim Crow and mass incarceration of African Americans.  I think this is a movement that has really ignited."
After years of urban living in large cities, Cleveland is living in a different type of setting, moving from "a low-income Minneapolis neighborhood to a 10-acre horse farm near Jordan Lake." Coming home to woods and horses is quite an adjustment for her, she said, but she loves the beauty of the place to complement the dynamism of the city.
One other local attraction requires less of an adjustment, she said. "I grew up as an Oakland A's fan, so I very quickly got myself to some Bulls games. I'm excited to be in a town with such as fun Triple-A team."