A 1991 photo shows Duke music composition graduate students in a master class. Penka Kouneva is sitting right.
As a 22-year-old in Bulgaria aspiring to become a music composer, Penka Kouneva had several things working against her.
First, coveted slots in the composition program at Bulgaria's State Music Academy weren't given to women.
And it didn't help that her parents weren't communists, the ruling party in Bulgaria at the time.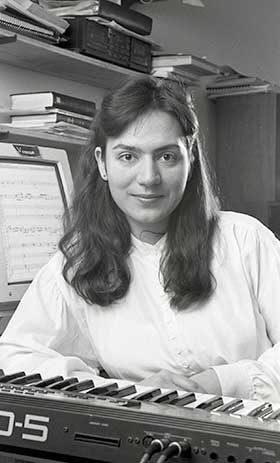 Penka Kouneva in 1994
So things were bleak until she came upon a small ad in the American Music Center magazine for graduate composition fellowships at Duke. She was accepted in March 1990 and arrived in Durham in August alone, with no support system and just $150 in her pocket.
She then met Stephen Jaffe, the Duke composition professor who would become her advisor and mentor. Jaffe helped her navigate Duke's administrative red tape, arranging for her monthly stipend to begin a month earlier than scheduled. If not for this, Kouneva recalls now, she would have had no money for rent or food.
These many years later, Kouneva is a successful composer who creates, orchestrates and produces musical scores for studio films, television and video games.  She is repaying the music department with a recurring annual "commission award" of $10,000.
The money will help two graduate students compose an orchestral piece to be rehearsed and recorded by the N.C. Symphony Orchestra. The first students to benefit will be Scott Lee and Yahn Wagner, who will work with the symphony in the spring.
"We are looking forward to working with these young composers as they take this very important step in their professional development," said North Carolina Symphony Music Director Grant Llewellyn.  "Our good friend Stephen Jaffe and his colleagues at Duke University are making a difference every day as they mentor and guide these talented students."
Kouneva's gift will also underwrite new works to be composed by Jaffe and fellow music faculty member Scott Lindroth, each of whom served as mentors to Kouneva during her time at Duke.
"This will afford a deserving graduate composer one of the most coveted and unattainable dreams – having their music performed and recorded by a symphony orchestra," Kouneva says.
In funding the compositions, Kouneva hopes to give each graduate student a leg up as they enter a very competitive field.
"I trust this will give the composer a substantial competitive edge in addition to being a cherished experience and tremendous learning opportunity," she says.
Kouneva has carved out a substantial career in the entertainment industry as a composer and orchestrator, blending her native eastern European influences with modern orchestras. She became the first woman Lead Orchestrator on studio features with a $100 million budget, doing so on Sony's Elysium and Lionsgate's Ender's Game.
Kouneva looks back at her seven years at Duke – first as a master's student and then as the university's first doctoral student in music composition – with fondness and appreciation. She is particularly grateful to Jaffe and Lindroth, each of whom inspired her through their own composition work, she says.
"They both were a rare combination­­ – brilliant artists, role models and incredible human beings -- generous, kind, supportive, sophisticated," Kouneva says. "I felt continually encouraged to find my voice, to stretch, to develop both as an artist and as a citizen of a community. I admired both Steve and Scott very much for being such inspiring, caring mentors and for building a community. I still do."
Jaffe recalls a young woman utterly driven to experience the freedom of the West.
"She was already an amazing musician when she arrived, but she wanted to find out what the wider musical world was," he says. "She was a hungry student."
In recent years she has returned to campus to lend her expertise. In 2012 she gave a lecture for students in Duke's composition program and a year later was on distinguished alumni panel during the university's annual Duke Entertainment, Media and the Arts (DEMAN) Weekend.
The ability to have their composition performed will give selected students a decided professional edge, says Jaffe.
"We worry about composers not having orchestras available to them. Only composers who successfully deal with large ensembles are taken seriously," Jaffe says. "So this is quite a big deal. "Obviously, it's very nice to see our gifted students achieve recognition in the field, and it's wonderful that Penka would think to give back."