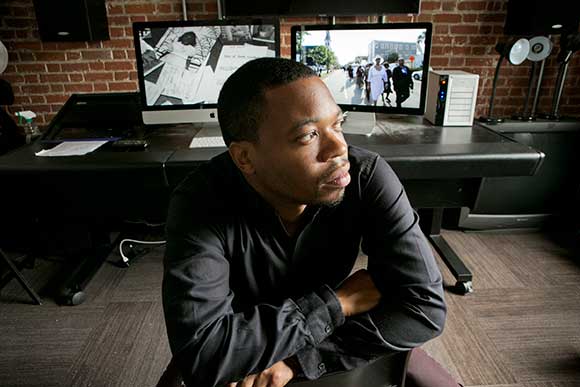 A 40-acre plot of land in coastal South Carolina is joining the national dialogue on race relations.
Jon-Sesrie Goff, 32, a second-year student in the Master of Fine Arts of Experimental and Documentary Arts program, has been exploring the history of his family's small land holding in South Carolina's Low Country – or 'Gullah' region -- in a documentary project titled After Sherman since he came to Duke last year. But the murders of nine churchgoers at Charleston's Emanuel AME Church on June 17 forced Goff to reexamine the significance of his family's land and Gullah heritage.
"The way events unfolded this summer completely changed my approach to (documenting the land)," Goff said. "After the shooting, I had to reorient my entire project. I was (in Charleston) for most of the aftermath of the shooting and continue to go back a few times every month."
Goff, who is African-American, also has a personal connection to the massacre at Emanuel AME: his father Norvel Goff Sr., became the interim pastor of the church immediately following Rev. Clementa Pinckney's murder. (He was not in the church when the shooting occurred)
After Sherman has since evolved into Goff's thesis and become his primary focus. It received a $30,000 filmmaking grant from the Princess Grace Foundation, the first time a Duke MFA student has received the prestigious Princess Grace Award, one of six awarded to young filmmakers from around the United States.
Tom Rankin, the MFA/EDA director, said Goff's accomplishment is an "affirmation" of the talent within Duke's program, which enrolled its first class of students in 2012.
"We're a very young program and this tells other programs and foundations that there are extremely talented people with distinctive ideas in our MFA program," Rankin said.
Goff will use the grant money to turn After Sherman, which he had conceived as a short film, into a feature-length documentary film.
"With the Princess Grace grant, I will be able to hire a crew and more editors," Goff said. "I also want to do fictional recreations of local folklore, and these funds will contribute to that as well."
Born and raised in the Northeast, Goff's path to Duke included everything from shooting marketing videos to documenting Atlanta pop star Janelle Monae's national tour to contributing camera work on documentary and feature films such as Out in the Night (2015) and Evolution of a Criminal (2014). But after a decade of taking on freelance work around the country, Goff wanted a change of pace.
"I wanted to know if my intuition around filmmaking was correct or incorrect," Goff said. "I also found myself over-committing to freelance work right before I applied to MFA programs, and I thought taking the time to harness and develop my own ideas and practice would be the right next step."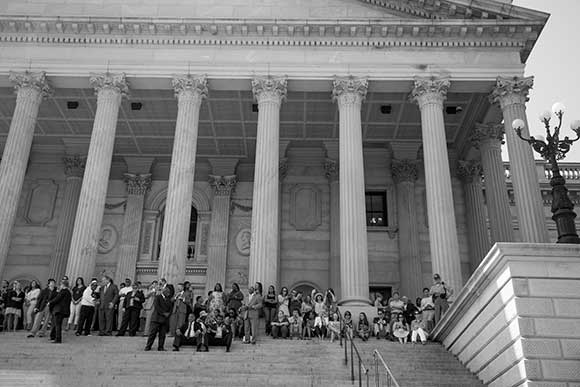 A still from "After Sherman."
Goff said Duke's program stood out because of its close ties with departments outside the visual arts, adding that his research for After Sherman has been supplemented with conversations across various academic disciplines, including economics, anthropology and the Divinity School.
"This institution really supports arts in a non-traditional way, and they recognize that an art student might be interested in other disciplines," Goff said. "That's really what stood out to me as I was considering different programs."
With the academic resources of the university and his MFA professors' artistic expertise supporting him, Goff set out to explore his family history through the prism o a 40-acre piece of land passed down by his father's female ancestors since the end of the Civil War. He spent much of his first year in the MFA program visiting the land and researching the deeds connected to it in Charleston and other parts of coastal South Carolina. One of the first people to offer Goff assistance was the late Clementa Pinckney, the state senator and senior pastor of Emanuel AME Church in Charleston who was killed in the church shooting.
"Reverend Pinckney was a champion of Gullah cultural preservation, and he was instrumental in passing legislation that protected (inherited African American) property, so he was making initial introductions to me within the community," Goff said. "I never thought there was any reason for me to rush interviewing him. Then June 17 happened, and I had to reorient my entire project and storytelling to what had taken place."
While Goff said that he had entered the MFA program with little interest in producing work based on race in American society, he now hopes to examine race relations through his family history in the Low Country. Alex Harris, a photographer and one of the founders of the Center for Documentary Studies, said witnessing the shift in Goff's focus over the course of the past few months has been "fascinating."
"Jon is working in a moment where his life and his family's life intersects history in a powerful way," Harris said. "He started out making a quiet film about a piece of land that remained in his family following the Civil War. Now Jon finds himself trying to tell a bigger story, one that strikes at the heart of our nation's consciousness about race.
"Jon is following the impulse that many documentarians have: to tell their own story through the lives of other people. Certain themes, ideas, or events in their own lives have propelled them to look at other people's lives to learn something fundamental about themselves," Harris added.
Goff said After Sherman takes its name and style from the 1986 feature film Sherman's March, in which documentarian Ross McElwee tells a personal narrative instead of creating a historical documentary about General William Tecumseh Sherman's March to the Sea in Georgia after the Civil War.
Rankin said that Goff's "unique position" of having a large budget for his thesis project forced him and other faculty members on the MFA thesis committee to reconsider the scope of Goff's project. While After Sherman will not be completed before Goff graduates in May 2016, his thesis will consist of an edited segment that will later be incorporated into the finished film.
Goff hopes to use documentary filmmaking as a medium to explore the history and culture of the Atlantic coastal corridor from North Carolina to Florida.
Rankin and Harris agree that Goff's outstanding tenure in the MFA program has had a positive impact on both the faculty and other students.
"Jon knows the importance of what he's doing," Rankin said. "Just by his presence, he makes his [fellow students] take things even more seriously. But he's also very playful and fun to be around. We're just lucky that he landed here."
Below: From "After Sherman"