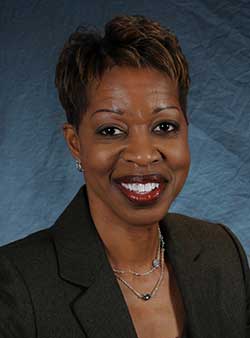 Valerie Ashby has been very open that she loved being chair of the Department of Chemistry at UNC-Chapel Hill, but she admits she struggled to respond when one Duke faculty member recently asked her, "If you loved it there, then, did you come here?"
Read More
The new Trinity College dean now has had three weeks of classes at Duke to think about it, and in her first address to the Arts and Sciences Council Thursday, Ashby answered the question by presenting a vision of arts & sciences education based on excellence, leadership and diversity.  These challenges excited her as a department leader; now she wants to face them across a school, and Duke presented the right place to accomplish that, she said.
"Duke is a place where excellence is the expectation and goal. It is now my privilege to imagine the possibilities for talented undergraduates, budding graduate students and postdoctoral researchers—and make those possibilities happen," Ashby told the faculty. "And it is my role to serve and develop faculty and staff across many different disciplines. I will tell you now that for me, it does not get any better than this."
Ashby said her goals came out of her belief in the importance of liberal arts education, one that attended "not only to [students'] intellectual growth but also to their development as adults committed to high ethical standards and full participation as leaders in their communities."
"Our students may have depth of training in a particular discipline or two, but the end goal is for them to engage the full range of knowledge that a liberal arts education provides," Ashby said. "This is what prepares them not for what they can imagine, but for the possibilities that they will create in an unscripted world. We are educating them to tackle the challenges they cannot see today, and for the multiplicity of human beings with whom they will interact, influence and to whom they will seek to be of service."
She has spent her first months taking extensive meetings with chairs and department meetings taking a sense of faculty strengths and interests. What she found was a determination to go "beyond maintaining today's status quo (even if it is now excellent)—but strategically and uniquely becoming even greater in the future. As you know, we are not going to grow the faculty overall, but we are going to change. So thorough and thoughtful conversations need to occur to make every change as meaningful and impactful as possible."
Beyond supporting excellence, Ashby underscored the importance of leadership training and mentorship, both to attract the best new faculty members but also to support and promote the current faculty. It is, she said, the best feeling she had as a UNC department chair to be able to help her colleagues grow.
Now she wants to do that on a school-wide level at Duke. She pledged to look at mentorship for all levels of junior faculty, including non-tenure track colleagues.
"It may be hard to believe, but I envision a leadership culture for us that would inspire each faculty member to want to be a chair. To inspire you to want the opportunity and privilege of taking your department and your colleagues to another place. I'll just tell that for me, there was nothing better," Ashby said."
She concluded by describing the importance of diversity in creating excellence in higher education, both by providing different ideas and perspectives and by encouraging risk-taking. Because of their history and position, Duke and other elite institutions, she said, had an obligation to engage diversity and issues of inequality as part of a liberal arts education.
"We know that no problem or person is one-dimensional," she said. "Each may be impacted by language, art, history, religion, economics, chemistry, biology, psychology, and communication. So how do we create an environment first for ourselves and then for our students where we pause long enough to question what we thought we knew and to make room for a new perspective? And how do we cultivate that?"