The Nasher Museum's Big Year Starts
Museum celebrates with new shows, community outreach and more of the permanent collection
The Nasher Museum of Art is beginning its second decade in a big way, with new exhibitions opening Thursday showcasing contemporary sculpture, acclaimed photography from Ansel Adams, video from Irish artist Richard Mosse, and rarely seen works from the museum's permanent collection.
Read More
Here's what visitors will be able to see:
* A large-scale mural by abstract painter Odili Donald Odita. His wall painting inside the Nasher Museum's Mary D.B.T. Semans Great Hall, titled "Shadow and Light (For Julian Francis Abele)," is inspired by the African-American architect who designed most of Duke's campus. Odita's wall painting visually connects the Nasher Museum to downtown Durham, where he is in the process of painting a second mural on the Foster Street wall of the Downtown Durham YMCA.
Odita was born in 1966 in Enugu, Nigeria, and lives and works in Philadelphia. His abstract paintings explore ways to trigger memory and address the human condition through color, pattern and design.
* Important contemporary sculptures are on view in the Nasher Museum's Great Hall and on the front lawn, on loan from the Nancy A. Nasher and David J. Haemisegger Collection.
A 12-foot-long sculpture created by Katharina Grosse in 2013 rises up from the front lawn of the museum. The work is made of acrylic on fiberglass reinforced plastic. Grosse, who was born in Germany in 1961, works in conventional mediums, such as acrylic and canvas, but also with installations such as dirt, Styrofoam and other types of non-traditional materials.
"Her work comes from a long lineage of gestural abstraction that goes back to the abstract expressionists but also includes Earth art, graffiti and street art," said Marshall Price, Nancy Hanks Curator of Modern and Contemporary Art. "This work is just as much of an 'intervention' in the landscape as it is a sculpture installed in front of the museum. Like all of her work, it is active and engaging and in no way passive."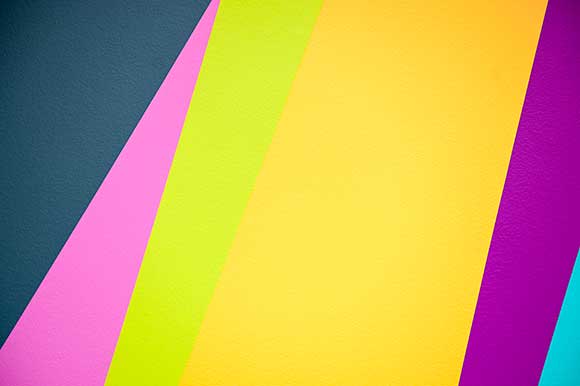 Detail of the mural by Odili Donald Odita in the Nasher Museum.
* "Richard Mosse's The Enclave," is a 40-minute six-channel video installation shot in eastern Congo. The Enclave is the culmination of the artist's recent body of work and will be on view in the Southeast for the first time. Debuting at the 55th Venice Biennale in 2013, where Mosse represented Ireland, The Enclave is a beautiful and haunting look at a region of Africa that has been plagued by civil war, political instability and humanitarian crises for decades.
* "The New Galleries: A Collection Come to Light" is a reinstallation of the museum's collection, intended to put a greater emphasis on and devote more space for the collection. Eight new galleries will be dedicated to specific collection areas highlighting many of the museum's masterworks while illustrating a history of human creativity. The new installation presents more than four times the number of works on view from the collection. 
The Ancient World covers a broad geographical and chronological reach, featuring works from ancient Egyptian, Greek and Roman cultures. Medieval Europe displays important architectural sculpture, devotional objects and stained glass from the Romanesque and Gothic periods. European Art, 1400-1900, illustrates cultural and aesthetic changes from the Renaissance to the dawn of the modern period through a variety of objects, paintings and sculptures. 
American Art, 1800-1945, begins with portraiture from the early Republic, continues with Hudson River School painting and Ash Can School works, and concludes with examples of Regionalism. Modern Affinities features European and American modernist art alongside works by self-taught artists, illustrating connections between them. Two galleries dedicated to non-Western cultures include Art of the Americas, presenting ceramics, metalwork and textiles from Mesoamerica, and African Art, featuring many of the museum's best masks, figural sculpture and beadwork from the African continent.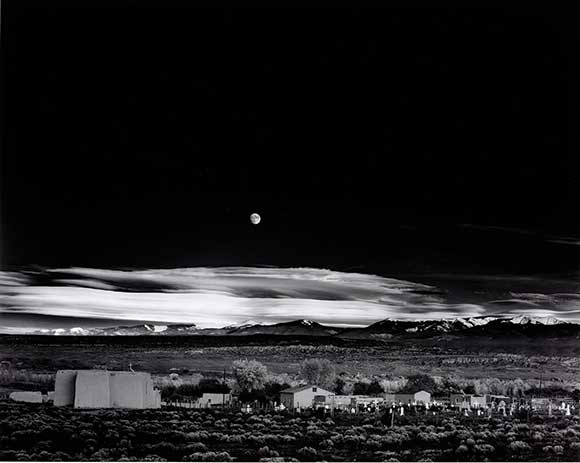 For the opening, Duke students curated an "incubator space" exhibit of Nasher Museum photos from Ansel Adams.
* One of the new permanent collection galleries will include a flexible "incubator space" often used for rotating student-curated exhibitions. This space will be inaugurated with an installation of Ansel Adams photographs curated by two undergraduate interns, Annalise Johnson and Rosemary Williams. 
"Sharp Focus: Ansel Adams and American Photography" presents a view into the rich and diverse body of work of one of the most iconic American artists of the 20th century. Born in 1902 in San Francisco, Adams was a pioneering photographer acclaimed for his striking subject matter and distinct techniques. Primarily a photographer of the American West, Adams's work often alludes to the fragility, resilience and harmony of nature.
The photographs were a bequest from alumnus Aubrey Courtney Shives Jr. and are exhibited together for the first time since their arrival at the Nasher Museum.