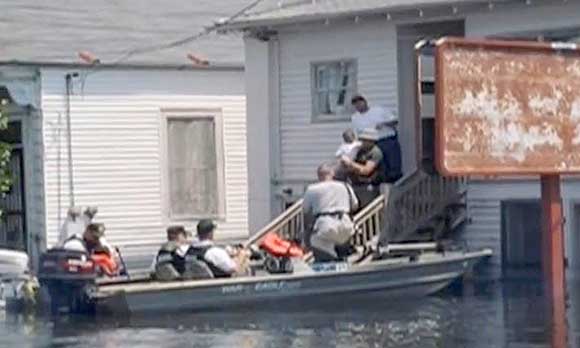 The evacuation of Gulf Coast residents following Hurricane Katrina. Photo courtesy the Historic New Orleans Collection.
Hurricane Katrina not only shattered lives along the Gulf Coast 10 years ago this month, it forced the rethinking of decades-old environmental beliefs and exposed the depth of poverty, say Duke University experts.
The hurricane struck the Gulf Coast on Aug. 29, 2005. The mammoth storm left more than 1,800 people dead along the coast, put about 80 percent of New Orleans under water and led to tens of billions of dollars in rebuilding money for thousands of reconstruction projects, according to USA Today.
"Katrina made us rethink much of what we thought we knew about coastal geology and the natural protection we have from storms," says Orrin Pilkey, the James B. Duke Emeritus Professor of Geology at Duke. "One belief that fell by the wayside was that salt marshes could reduce storm surge by a predictable amount. The unprecedented inland devastation caused by Katrina's surge taught us this isn't always true." "The second belief that fell by the wayside was that barrier islands would reduce storm surges on the mainland. But the mainland communities of Waveland and Bay St. Louis were inundated with a 28-foot surge, even though they are 'protected' by barrier islands. Katrina made us re-evaluate decades of theory and policy."
Pilkey says such lessons are valuable today when deciding whether to build – or rebuild – along the coast. "In a time of rising sea level and increased storminess, the day may have come when we need to move back from the coast and abandon some areas -- especially those in low-lying deltas -- rather than hold the line and try to rebuild after each new storm."
Brian Silliman, the Rachel Carson Associate Professor of Marine Conservation Biology, suggests one way to help reduce future devastation from major storms is through protecting wetlands.
In the decade since Hurricane Katrina, he says, Louisiana has lost another 200 square miles of wetland to erosion and subsidence, while New Orleans keeps getting closer to the Gulf and more exposed to storms.
"One option for protecting the city from future storms would be to take an integrated approach of halting wetland loss, replanting the wetlands that have died and shoring up manmade defenses," Silliman says. "It's not clear whether the money and political will exists to make this happen, but there has been great progress made in planning." 
James Joseph has seen the Louisiana recovery effort firsthand.
A native of Opelousas, La., the emeritus professor of the practice at Duke's Sanford School of Public Policy is chairman emeritus of the nonprofit Louisiana Disaster Recovery Foundation (LDRF). The foundation was established immediately after Hurricane Katrina to assist recovery efforts by focusing on education, housing, health care, legal assistance and jobs. In 2010 the LDRF became the Foundation for Louisiana.
He says Katrina gave "a human face to poverty and inequality."
"The hurricane exposed pre-existing conditions that were terrible. The Louisiana Disaster Recovery Foundation that I chaired couldn't just address the damage caused by Katrina; we also had to address poverty, poor access to education and health care, and the need for institutional leadership," says Joseph, who served four U.S. presidents and was U.S. ambassador to South Africa from 1996-2000.
"One of most important assets we provided was intellectual capital that strengthened the capacity of those formerly marginalized to participate in deliberations about their future. While much progress has been made, New Orleans needs to continue growing its human, social and intellectual capital."
This month, Joseph will be honored in New Orleans for his work with the foundation, which he says has raised about $50 million for relief and renewal efforts.
"To us, recovery meant building a life that was better than the life that existed before the hurricane," Joseph says.