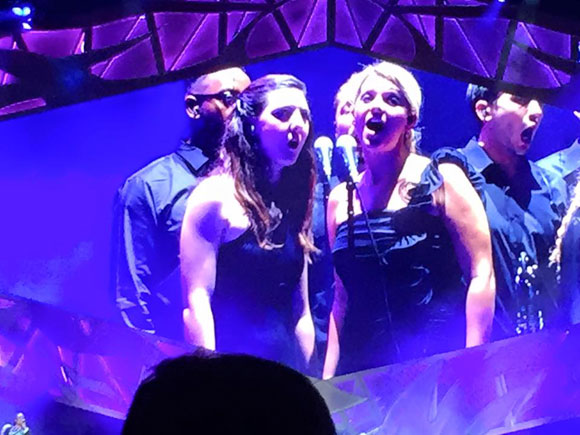 How many of you went to see the Duke Choral Vespers Ensemble in concert Wednesday night before 40,000 people in Carter-Finley Stadium in Raleigh?  One of the many prides of Duke Chapel, the ensemble was kind enough the share the stage with several senior citizens from Great Britain (more commonly known as The Rolling Stones).
The ensemble performed on "You Can't Always Get What You Want," providing the  classic choral refrain.  Read here for the News & Observer review, which gives the ensemble "props" for its performance. More photos can be found on the Duke Chapel Facebook page.
Below are more photos and a short video from the performance captured by Mary Ann Baldwin in the audience and posted on Twitter. Here is a Duke Chapel video about the vespers ensemble in a more traditional performance.
The Durham choir rocks it with the Rolling Stones. U can't always get what u want but sometimes u get what you need. pic.twitter.com/PgVjSZWOmN

— Mary-Ann Baldwin (@maryannbaldwin) July 2, 2015