Duke Continues Roll as 'Great College to Work For'
Chronicle of Higher Education recognizes Duke for eight-straight years
For the eighth consecutive year, Duke has been recognized as one of the best colleges in the nation to work for by The Chronicle of Higher Education.
The Chronicle released its annual report on academic workplaces, naming Duke among the 2015 "Great Colleges to Work For" across the country. This year's list highlighted 86 institutions out of 281 participants. Results were determined by surveys completed by administrators, faculty and staff at participating institutions.
Duke earned its highest responses in 11 workplace categories, as determined by surveys completed by Duke employees. This is the third-straight year Duke has added new categories of recognition, with 2015 setting the highest total for inclusions in the following categories: 
Collaborative Governance
Compensation & Benefits
Confidence in Senior Leadership
Facilities, Workspace & Security
Job Satisfaction
Professional/Career Development Programs
Respect and Appreciation
Supervisor/Department Chair Relationship
Teaching Environment
Tenure Clarity & Process
Work/Life Balance
Duke was also included among 42 institutions in the Great Colleges to Work For "Honor Roll," which highlights colleges and universities that earned the most recognition in their size categories. 
"The recognition from the Chronicle of Higher Education is a reflection on all the hard work of thousands of faculty and staff who continue to make Duke one of the best places to work in the country," said Kyle Cavanaugh, vice president for administration. "Although we can never rest in our pursuit of excellence, such recognition is validation that we are on the right path."
One new area highlighted in this year's survey is "Teaching Environment," which is classified in the "Great Colleges" survey as when "faculty members say the institution recognizes innovative and high-quality teaching."
Rob Garlick, an assistant professor in the Department of Economics, said institutional support shows up from colleagues and administrators. Since joining Duke in 2014, Garlick noted he's appreciated the autonomy provided to him to work with and educate graduate students, especially those that assist him with research. 
"It's an environment where I can experiment and try new things on the teaching front to better organize what I feel will work best with individual classes or students," Garlick said. "But I'm not completely left to my own devices, and Duke has a really good balance where if I need assistance from a colleague or administrators within my department, they're quick to provide that."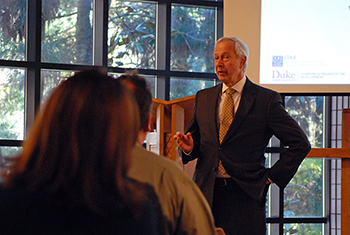 Duke President Richard H. Brodhead speaks to the 2015 class of the Duke Leadership Academy, an annual professional development group for Duke employees. Faculty and staff recognized Duke for opportunities to enhance skills as part of this year's "Great Colleges to Work For" survey. Photo by Bryan Roth.
Another new area where Duke was highlighted in 2015 was for "Professional/Career-Development Programs," which highlights colleges that provide employees the opportunity to develop skills and understand requirements to advance in their careers.
Isabel Taylor, a senior project manager with the Office of Information Technology's Project and Consulting Services, said Duke provided her with the experience and learning she needed when she first arrived as a 24-year old in the late 1980s to work as a communications training assistant for Duke's telephone systems. 
"I didn't have any real professional experience," she said. "But right away I was given the opportunity to learn and apply knowledge to any of the systems we had here."
Over the years, Taylor said she's received encouragement from coworkers and supervisors to continuously stretch herself, attending workshops and conferences that have allowed her to enhance project planning and presentation skills. 
"I don't think I could have been as effective a project manager if I hadn't had that training," Taylor said. "It's given me confidence to manage sensitive projects and better collaborate with others across Duke." 
Duke's listing from the "Great Colleges" survey is among other recognitions it's received for its commitment to employees. Duke has earned high marks for workplace satisfaction from Carolina Parent, AARP, Modern Healthcare and the National Center for Transit Research as a "Best Workplace for Commuters."
"The Chronicle's Great Colleges to Work For program shows how the colleges and universities on the list are getting it right: They're leaders in creating environments where smart people enjoy their work," said Liz McMillen, editor of The Chronicle of Higher Education. "The selection process is rigorous and being named to the list is a tremendous accomplishment, but it also positions colleges and universities well to recruit the people that make them a success."