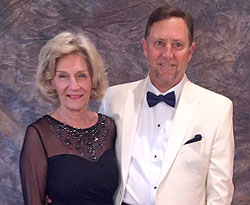 Duke University alumnus Steve Brooks and his wife, Eileen, have committed $13 million to the Duke Athletics Department, President Richard H. Brodhead announced Friday.
In recognition of the support, the Duke Board of Trustees has approved the recommendation that the football field be named Brooks Field at Wallace Wade Stadium.
"Lifting Duke football to the level of the rest of the university has been one of the pleasures of recent years, and Steve and Eileen Brooks have been steadfast friends throughout that process," Brodhead said. "We are grateful for their generosity, which will provide a strong foundation for the student-athlete experience at Duke."
Their gift will contribute to Duke Forward, the seven-year, university-wide fundraising campaign that aims to raise $3.25 billion by June 30, 2017. Every dollar donated to Duke's 10 schools and units, Duke Medicine or university programs and initiatives counts toward the campaign.
Included in Duke Forward is a $250 million goal for Duke Athletics -- $50 million for endowment income, $100 million for facility enhancements and support, and $100 million for operating funds.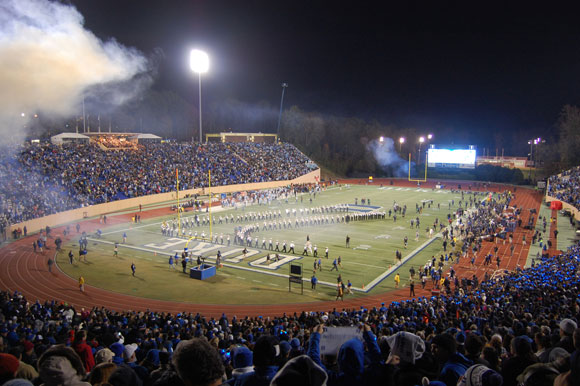 The Duke football field, shown here last year before the Duke-UNC game, will be named Brooks Field. Photo by Lauren Hagedorn.
The Brooks family has a long history of giving to Duke, including support for the Brooks Practice Facility and Brooks Building for Duke Football. With their latest gift, they have committed more than $20 million to Duke.
"Steve and Eileen Brooks have been tremendously generous, as well as incredibly faithful, relative to supporting Duke University for many years and, specifically in the case of Duke Football, no one has been more committed to helping us build a championship program," said Kevin White, vice president and director of Duke Athletics.
A native of Atlanta, Brooks graduated from Duke in 1970. He is the president and chief executive officer of the Phoenix American Insurance Group Inc., and has served on the Trinity Board of Visitors, Duke Athletics Advisory Board and the Duke Law School Board.
"We are pleased to have a small part in the ongoing efforts, led by President Dick Brodhead, Director of Athletics Kevin White and Coach David Cutcliffe, to put Duke Football on par with the very best college football programs in the nation," Brooks said. "We want to thank all the Athletic Department football staff and coaches for their tireless efforts on behalf of Duke Football and Duke University."
The Brooks have two sons, Matt and Steven. Matt, who graduated from Duke in 2004, earned four varsity letters as a member of the football team. In 2009, he received an MBA and a JD from Duke.