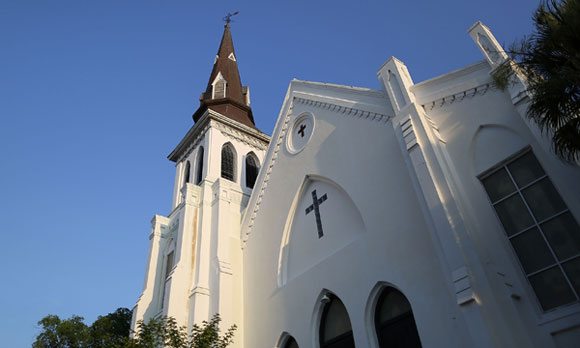 The Emanuel African Methodist Episcopal Church, site of last week's shootings that killed nine church members. Photo by Joe Raedle/Getty Pictures
The assault on a South Carolina church last week by a self-proclaimed white supremacist did more than kill the church pastor and eight other congregation members. According to Duke's Valerie Cooper, the attack created a deep wound targeting "the beating heart of black communities."
Cooper, associate professor of black church studies at the Divinity School, spoke with Frank Stasio on WUNC-FM's "The State of Things" last week about the singular history and role of black churches in the community. That special place is a key reason for "the very long sad history of bombings and other violence against black churches as a means of destabilizing black communities," Cooper said.
"The churches are places of leadership development, the source of black music tradition and economic powerhouses. These are central places in our lives," she told Stasio. 
Listen to the full interview on "The State of Things" below.
There's historical precedent for terrorist attacks targeting black churches, but Cooper said this history is ignored through "a historical amnesia" and by the country's deep discomfort in talking about the violence underpinning our racial divide.
"In churches, it's difficult to confront the theological basis for white supremacy," said Cooper, the first African-American women to earn tenure at Duke Divinity School. "We had an economic motive (for white supremacy), and we came up with the theology to explain it. We've never undone that. We've never understood how it is a sin against God."
The black churches rose out of that racism, in particular efforts to exclude blacks from full religious participation. "Black people had to search for a place where your humanity would be celebrated and recognized," she told Stasio.
"It's a tragedy that the body of Christ would be divided along these lines. It was a question of whether blacks would be fully included in the body of Christ. Under these circumstances, of course, black churches emerged. 
Duke's Divinity School faculty, particularly those in the Center for Black Church Studies, have been among the academic leaders in studying the racial divide in churches and the role the black church plays in the community. Associate professor Willie Jennings' recent research focused on how Western Christianity became entangled with racism. Jennings spoke over the weekend with Minnesota Public Radio about the attack in South Carolina.
Cooper is working on a study of "Segregated Sundays," looking at successes and failures of the racial reconciliation efforts of Christian congregations. Following the shootings at Emanuel AME Church, Cooper was sought out by various media to discuss "the long history of brutality against blacks at worship" with National Public Radio's Weekend Edition program.
Cooper also did interviews with The Wall Street Journal and Christianity Today concerning the attacks.