Five years into a doctoral program in history, Duke graduate student Jonathon Free has learned the scholar's life can be a marathon.
But a recent six-week Bass Connections project taught him it can be a sprint as well.
Bass Connections meshes faculty, graduate and undergraduate students of varying backgrounds and expertise levels to examine real-world issues. Free stepped briefly off the dissertation treadmill last summer to work with a Bass team evaluating the work of federal regulatory agencies -- a topic that dovetailed nicely with his primary area of study, American coal mining in the 1970s.
The team did research, went to Washington, D.C., to observe a Congressional hearing and interview federal regulators, and wrote papers that will eventually be published in an upcoming text.
Free says now it was a turbo-charged experience that changed how he views the pace of scholarship.
"One of the issues a lot of history graduate students have is that there are so many documents out there to read, you could take 10 years to exhaust your topic -- and that's a trap," he said. "Having a real world timeline taught me a lot."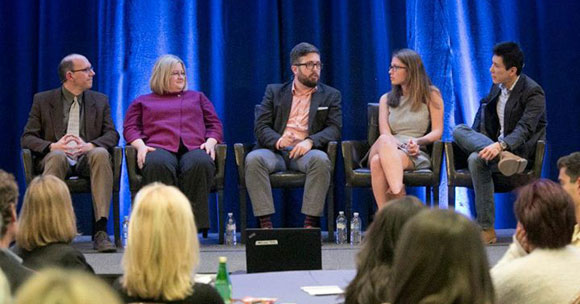 Ed Balleisen, Lori Bennear and others on the Bass Connections team discuss the project at a Duke Forward event.
This lesson is just one of many that students and faculty members are gleaning from Bass Connections, which debuted two years ago. Free, for example, says the Bass experience has made him a better writer because it forced him to synthesize information and produce work more quickly. And some faculty members say they're tweaking their traditional courses thanks to their Bass experiences, such as taking lessons from the team-based experience to apply in their classrooms.
Free, who has one year of graduate work left, hopes to be a public intellectual, eventually blogging, commenting and writing op-eds on topics related to his area of expertise. The Bass experience, he said, emphasized the importance of deadlines and clear, concise writing.
"It was really good training to be a public scholar," Free said.
Free's Bass project was led in part by Ed Balleisen, a Duke history professor and new vice provost for interdisciplinary studies. Balleisen said the Bass experience has led him to rethink both his own research priorities and his approach to teaching research in regular classes, such as "The Modern Regulatory State."
Last semester, Balleisen for the first time had his students do their final research projects in two-person teams, an effort that yielded work with significant depth. One team, for example, studied sovereign nation default by using case studies such as a recent municipal bankruptcy in Alabama and the Ottoman Empire's inability to pay debts in the late 19th century.
"I could ask them to engage in more complex analysis simply because with two people, there's more time," he said. "There were some really, really good papers that were probably better than a single student could have done."
And then there was the interpersonal dynamic.
"The team format also creates the challenges, and sometimes the problems, that come with working with someone else," Balleisen said. "That's a good experience. It's called life."
For two decades, Emily Klein has taught a large, introductory earth sciences course. While the course, which routinely enrolled close to 200 students, had some restrictions due to its size, Klein was generally pleased with the lecture environment. But then the Nicholas School of the Environment professor took part in a Bass Connections project analyzing energy and environmental issues and came away determined to improve her lecture course.
The Bass project was heavy on active, small-group learning, Klein said. She wanted that for her lecture course, even if she had 180 students to teach. So she turned to technology to give students a more dynamic role in the learning process.
Soon, they were using Google Earth and other digital tools to measure craters left by meteorite strikes or the volume of rock removed during strip mining excavation. They studied satellite photos of glaciers over time to track ice melt and understand the impacts of climate change. These may seem like small changes, but in a huge classroom, the increased level of student engagement was clear, Klein said.
"These are simple things, but it's a little like taking a geology field trip," Klein said. "The Bass experience really compelled me to dig into more active learning approaches."