Duke in Pictures: The Valor Games
Veterans and service members competed Wednesday in adaptive sports at Cameron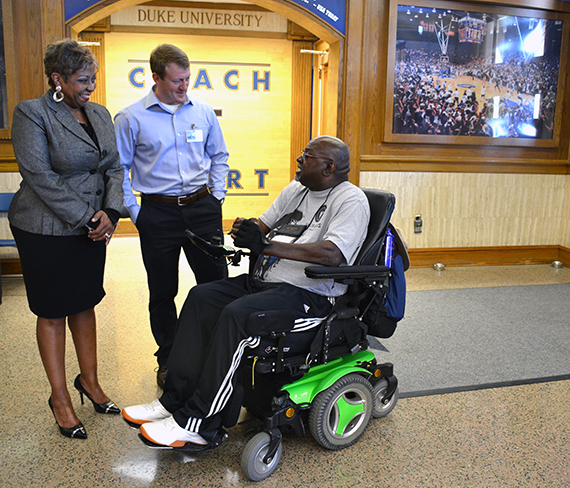 From left to right, Denise Motley, director of Duke Recruitment and Staffing, along with Duke Recruitment veteran outreach coordinator Geoffrey Allen, speak with Valor Games competitor Charles Bradley from Raeford.
Charles Bradley, a former soldier, sustained injuries when he fell three stories 20 years ago, and he's been in a wheelchair ever since. Bradley and his wife, Shari, drove from Raeford, N.C., to Duke this week to participate in the Valor Games Southeast, a three-day event that brings together disabled veterans and service members to compete in different sports, from weightlifting to boccia.On Wednesday morning in Cameron Indoor Stadium, Charles was taking a break before a game of table tennis. This is his second year competing in the Valor Games."Even though you get medals, it's not about them," said Charles, who served in the U.S. Army until 1988. "It's the camaraderie. It's meeting old friends."Throughout Wednesday in and outside of Cameron Indoor Stadium, veterans and service members competed in archery, indoor rowing, powerlifting, and table tennis. The Valor Games Southeast was also held this week at the Dean Smith Center at the University of North Carolina at Chapel Hill and Lake Crabtree County Park in Morrisville. This is the third year Duke has hosted part of the Valor Games.  In the lobby of Cameron, Duke Human Resources and Duke Disability Management System staff met competitors and shared information about Duke careers and benefits while handing out business cards, recruitment brochures and free pens. "It is just a feel-good event, and I think it's important to be able to honor our veterans," said Leigh Fickling, director of the Duke Disability Management System. "These people are embracing their disability. They're not letting that stop them."Geoffrey Allen, a former lieutenant commander in the Navy who worked in recruitment, joined Duke a month ago as the veteran outreach coordinator with Duke Recruitment and Staffing. He is among about 800 employees at Duke who are military service veterans."Service members and veterans have the ability to overcome a challenge, whatever that challenge may be, and oftentimes that challenge is getting into the civilian workforce," Allen said. "There's a certain tenacity in these people. We all need to recognize that veterans are a critical part of the workplace."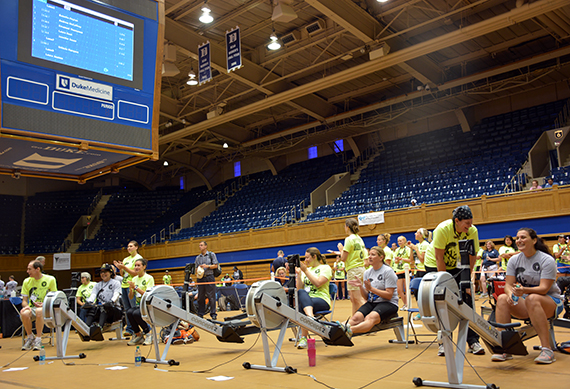 Above, some of the Valor Games participants competed in rowing in the middle of Cameron Indoor Stadium. Competitors and volunteers applauded as people reached the "finish line."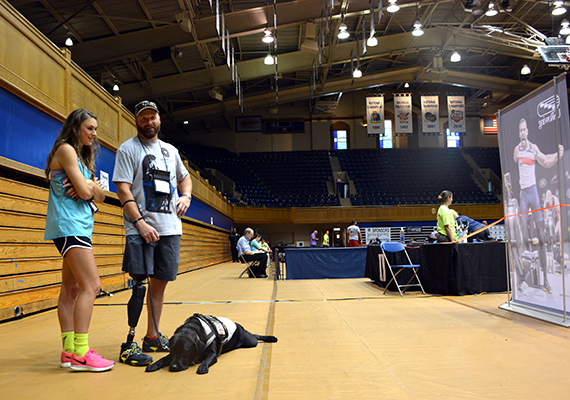 Peter Way, his daughter, Lara, and black lab Rory traveled from Georgia to participate in the Valor Games. Peter served 24 years in the Army, and he is still affiliated with the Warrior Transition Unit at Fort Gordon, Ga.