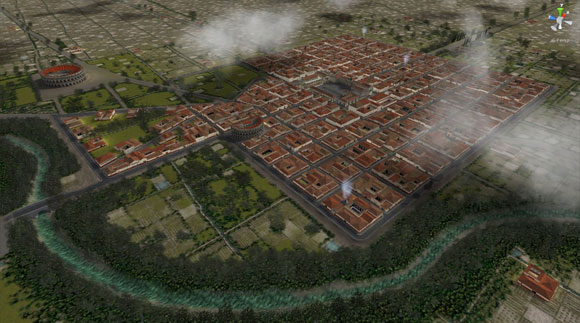 A virtual bird's eye view of Reggio Emilia during the Roman Empire.
For many people, the Roman Empire is an abstraction -- a series of facts gleaned from textbooks and museum artifacts.
For the people of Reggio Emilia, in northern Italy, the look and feel of the Roman Empire is about to become much more real.
The local museum in the town of 170,000 has partnered with Duke researchers to house a virtual museum bringing the empire's aesthetics to life. Developed by a team led by Maurizio Forte, a Duke professor of classical studies and art, art history and visual studies, this permanent exhibit will use high-tech devices to illustrate what the town might have looked like 2,000 years ago.
The project will be unveiled at the museum – Musei Civici Reggio Emilia -- at the end of the month.
This project has several features including a virtual reality experience in which visitors wearing 3D headsets take a 5-minute guided tour of the town as it looked in roughly 1 A.D.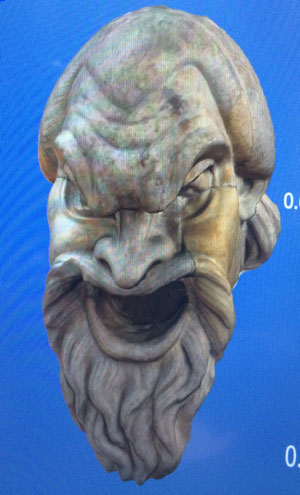 A statue head from the virtual 3D museum
Strapping on the Oculus Rift 3D headset, a user is transported to ancient times. The tour begins overhead with a bird's eye view of rows of low-slung homes and markets with red clay roofs arranged in an orderly grid system.
The view then shifts to a ground-level walking tour of the town's forum -- or central meeting place -- with ornate floor tiling, towering pillars and exquisite, carved fountains.
The technology allows users to explore the city's roads, plazas and back alleys on their own as well.
"People won't just watch here; they'll participate and move around," said Forte, who grew up in Reggio Emilia and visited the town's civic museum as a youngster. "We want to change how visitors can perceive archaeology."
In another part of this virtual museum, visitors can don 3D glasses and uses a laser pointer of sorts to grab an image of a museum artifact -- like the head of a statue that likely the head of a statue sat atop a Roman fountain -- and pull it right off the screen to examine every groove in the statue's face, every tuft of hair rippling down his beard.
"You can really experiment with these models, which is something you can't do with the originals in the [bricks-and-mortar] museum," said Nevio Danelon, a postdoctoral scholar in Forte's lab. "Because, obviously, you can't touch the real artifacts."
Each digital detail was created by scholars interpreting a trove of existing information -- from historical data to the archaeological discoveries unearthed in this city over the many hundreds of years that scientists have studied it. The city layout was created through a combination of historical data, archaeological findings, the analysis of road fragment, and modern GIS data. The 3D versions of the head of a statue over a Roman fountain and other museum artifacts were created by photographing them from dozens of angles, with each of those images entered into a software program that then pieced the 3D image together to create a simulated digital copy.
The project is the first such digital feature housed within the walls of an Italian museum, Forte said.
"The integration of the real and the virtual is a challenge with very few examples in archaeological museums anywhere," Forte said. "The local citizens in Reggio Emilia will, for the first time, be able to see their town as it might have 2,000 years ago."