For Religious Studies professor Laura Lieber, the National Humanities Center feels more like a medieval monastery than a modern Research Triangle Park facility.
Lieber is one of three Duke faculty members to receive the 2015-16 NHC Fellowship, along with philosophy professors Sara Bernstein and Owen Flanagan. Since the inception of the program in 1978, 100 Duke faculty have been awarded 103 fellowships, making Duke the most represented institution among NHC fellows.
Bernstein, Flanagan and Lieber will begin their yearlong fellowships shortly after Labor Day and work on research projects alongside the 34 other fellows from around the world.
Laura Lieber
Lieber said this is where the "medieval monastery" comparison comes in.
"The physical site of the NHC [in Research Triangle Park] is somewhat inspired by a medieval monastery," Lieber said. "The doorways are set back in pairs, which lets you have conversations in the doorway without blocking the hallway, and all the fellows eat lunch together every day—it's like the facilities were designed for you to have those impromptu conversations with your peers."
Beyond collaborating with other fellows, each researcher is expected to focus on his or her own project. Lieber said that while most fellows are working on book manuscripts, as is the case for the three Duke faculty members, several might be in the preliminary research phases.
Each program applicant is evaluated by an independent committee of scholars, which assess each proposed project and its significance in the context of broader humanistic study, said Elizabeth Mansfield, the center's vice president for fellowships.
"The three Duke faculty members, as with all of the [2015-16] fellows, did phenomenally well with their peer reviews and their projects presented themselves to the selection committee as important," Mansfield said.
Lieber's project, "Staging the Sacred: Orchestrating Holiness in Late Antiquity," focuses on the use of popular entertainment, such as theater and mime, in church and synagogue services in the late Roman Empire.
With "The Geography of Morals," Flanagan examines the moral traditions of non-Western thinkers to better understand how ethics in the different parts of today's "multiethnic, cosmopolitan world" have developed. While many of Flanagan's peers have used empirical methods rooted in neuroscience and psychology to address this problem, Flanagan argues that studying the texts of ancient non-Western philosophers can highlight the development of the concept of "goodness" in different societies' moral codes.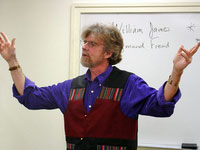 Owen Flanagan
"The [understanding of 'human good'] is not a matter of what is just in the genes or what goes on in the head," Flanagan said. "Ethics involves human well-being, goodness and rightness in [the context of] history and culture. [Thus], reading great philosophers from other traditions helps bring into view the fact that the particularities of different moral traditions matter."
Bernstein, Flanagan's colleague in the philosophy department, will study the relationship between "failures" and events that occur subsequently. Bernstein said that thinking about failures as "omissions" -- events that might have taken place, but ultimately did not -- helped formulate her book project.
Sara Bernstein
"Suppose that you forgot to water your plant, causing the plant to die," Bernstein said. "How can a failure -- something that doesn't occur -- cause something else to happen? My research suggests that the fact that you failed to water your plant is best understood as depending on the fact that you might have watered your plant -- you could have watered it, but didn't."
Echoing Lieber, Bernstein added that her research would benefit from other NHC fellows' comments and that she is looking forward to consulting with them.
"It provides the opportunity to talk with top scholars from other disciplines," Bernstein said. "Causation is a central topic not just in philosophy, but also in history, science, economics, and many others. I'm looking forward to fruitful discussions with scholars from other fields."
For more information about the National Humanities Center and the 2015-16 fellows, visit their website.