Duke Dance Instructor Natalie Marrone Adds Choreography to New Film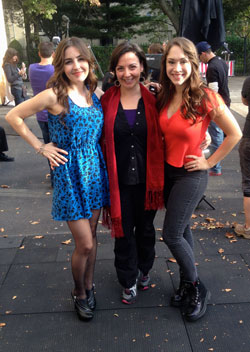 Duke Dance Program instructor Natalie Marrone choreographed a new film set to premiere in New York City on May 15.
Marrone's research on a legendary courtship dance from Apulia, Italy, known as "La Pizzica " becomes the pivot point in the movie "ALTO" when the two main characters use the dance to express their love.
Marrone's field research on southern Italian folk dances has taken her all over southern Italy to abandoned churches, festivals, ancient castles and on high cliffs overlooking the Adriatic Sea.
Marrone used her first-hand experience to bring to life the movie's Italian Festival scene, which was filmed in New York City for writer/director Mikki del Monico. The dancers Marrone worked with are from North Carolina and New York.
"ALTO" is the centerpiece selection for New York City's 15th annual VisionFest film festival, with shows at TriBeCa Cinemas at 7 p.m. and 9:15 p.m on May 15.
VisionFest15 co-director and co-programmer, Frank Lewallen, called "ALTO" "a breath of fresh air. It's clear to me that everyone in this movie had a blast making it and the love, passion and dedication for the project are all too evident on the screen."
The film is described as a quirky love story set in the midst of an unanticipated run-in with the New York mafia. "ALTO" stars Annabella Sciorra, Diana DeGarmo, Billy Wirth, Lin Tucci and Natalie Knepp. 
The film will also be available through national and international distribution by Cinema Libre.  
Previously, Marrone's choreographic work has been featured at the American Dance Festival and across North Carolina through her local dance organization, The Dance Cure. She is currently a dance instructor for the Duke University Dance Program and also on faculty at Elon University.