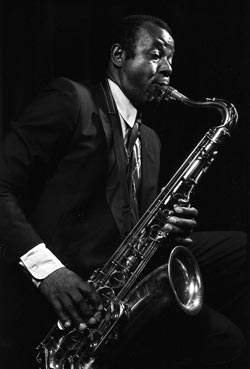 Saxophonist and composer Paul Jeffrey, director of Jazz Studies and professor of the practice of music at Duke University, died on Friday following a lengthy illness at age 81.
Jeffrey earned a bachelor of science degree in music education at Ithaca College before moving to New York City, where he began a lifelong friendship with Sonny Rollins. An acclaimed tenor saxophonist, Jeffrey worked closely with Rollins, Thelonious Monk, Charles Mingus and other jazz legends before coming to Duke in 1983, where he served as director of Jazz Studies until his retirement in 2003.
Jeffrey built up the jazz program during his time at Duke, mentoring a number of students who have become notable jazz musicians, including Todd Bashore (T'95, alto sax), Jeb Patton (T'96, piano) and Geoff Burke (T'99, tenor sax).
Jeffrey's influence as an educator extended far beyond campus. He was artistic director of the Aspen Jazz Festival, as well as for jazz clinics at the Riveria Jazz Festival in Dolo/Venice and Umbria Jazz Festival in Perugia, Italy. In 2000, a school of jazz music was created in his name in Cairo Montenotte near Genoa.
Jeffrey also worked to promote jazz within the local community.  In 1985, he was appointed to the North Carolina Arts Council by Gov. Jim Martin. In addition to directing the Duke Jazz Ensemble, Jeffrey donated his time working with local high school jazz bands.
"I first met Paul Jeffrey when I was still in college and I had the privilege of working alongside with him here at Duke for two and a half years before he retired," said John Brown, director of Jazz Studies at Duke. "He worked tirelessly to ensure that jazz remained alive and well and was very passionate about the music he loved so much. He leaves a legacy of great traditions of presenting jazz at Duke, and for the presence of jazz everywhere.
"When people pass on, we often quip that they will be missed. Thankfully, when we recall the marvelous things that Paul did with his life, we can all celebrate his life and rejoice in how he will be remembered."