Artstigation: Comedienne Retta Sirleaf '92 talked to Duke students about breaking into comedy and acting careers at a lunch on Feb. 18. Photo by Christina Holder
Shortly after graduating from Duke, Retta Sirleaf got a job as a chemist and did stand-up in her spare time at Charlie Goodnights Comedy Club in downtown Raleigh.
It was there that she met a traveling comic who thought she was funny and invited her to take his comedy class for free.
That experience was the beginning of a career in comedy.
"If you're around creative people, chances are you're going to get to work with those same creative people," she said.
Sirleaf shared her journey from Duke to the world of comedy with 15 students pursuing the arts during a lunch on campus Feb. 18. Her experience at Duke as a pre-med student involved in theater helped her better understand people with diverse interests and made her a better comedienne, she said.
Later Sirleaf moved to Los Angeles where she ran into a fellow comic that she knew from Charlie Goodnights. He introduced Sirleaf to his agent, and the doors began to open. Sirleaf joined a college comedy tour and began auditioning, eventually leading to her role as Donna Meagle on NBC's Parks and Recreation.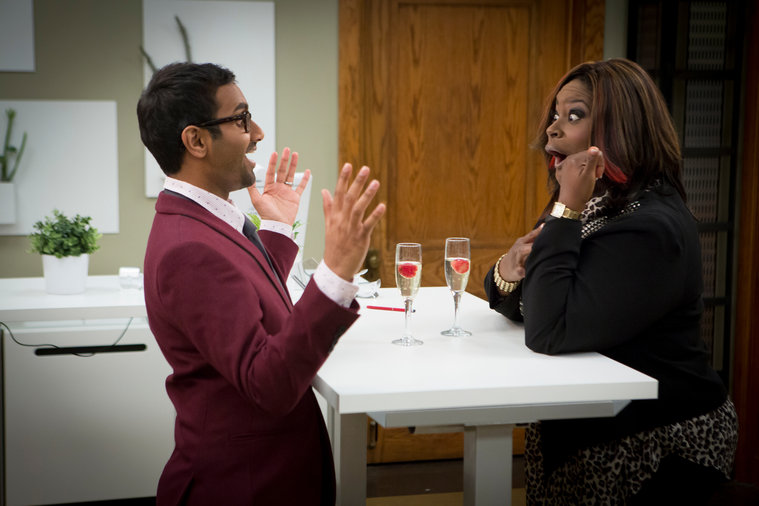 Playing Donna Meagle: NBC Parks and Recreation writers included Duke-themed jokes for Retta Sirleaf throughout the show's seven seasons. Photo credit: NBC Parks and Recreation
Sirleaf encouraged students who want to pursue comedy to go to open mic nights like she did while she was at Duke.
"I'm not saying get on stage, but go and watch," Sirleaf said. "You start getting confidence by watching people who, you're like, 'Whoa, he's not good.' And then you get inspired by people."
Sirleaf also encouraged future comics to try a joke at least three times and to record funny life moments or thoughts.
"Anything you think is funny, write it down," she said. "Don't try to remember it because you will not...If you're sleeping your jokes away, you're wasting your time."
Sirleaf told students who want to act to invest in the theater community and in acting classes. Sirleaf's acting career evolved from comedy, but that isn't the path for everyone, she said.
"Get as much stage time as you can--whatever opportunities there are," she said.
Duke junior Grace Oathout said Sirleaf's advice was inspiring.
"Your perspective is such a unique one from this campus and so helpful to students that aren't looking to take safe paths from Duke," Oathout said.