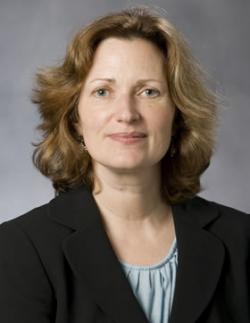 Romance Studies professor Deborah Jenson will be the next director of Duke's Franklin Humanities Institute (FHI).
Jenson, who holds a secondary faculty appointment in global health and is affiliated with the Duke Institute for Brain Sciences and the Women's Studies Program, takes over March 1. She succeeds Ian Baucom, who left Duke last year to become dean of arts and sciences at the University of Virginia. David Bell, a Romance studies professor, has served as interim director since Baucom left.
Jenson, who holds a doctorate in romance languages and literatures from Harvard University, has published books on topics including trauma, the Haitian revolution, French women's writing, and global psychoanalysis. She has been a Duke faculty member since 2008, when she came to Durham from the University of Wisconsin-Madison, where she directed its center for the humanities. She has worked extensively on scholarship involving 19-century France, the French Caribbean, and the intersection of the humanities and neuroscience.
"The Franklin Humanities Institute is a premiere interdisciplinary hub of humanities," said Duke Provost Sally Kornbluth. "Deborah has been deeply involved in the activities of FHI for some time and has the intellectual breadth and depth to touch all areas of humanities. She's an innovator who will deepen existing FHI activities while bringing fresh new approaches to interdisciplinary humanities research and education at Duke."
As director, Jenson said she hopes to work with Duke's five other signature institutes and provide humanities faculty members a place to work with new methods of teaching and scholarship and to reach broader audiences. "A humanities institute has a great deal of freedom to invest and experiment," said Jenson.
Jenson co-directs the "Brain and Society" theme of Bass Connections, an initiative involving faculty and graduate and undergraduate students in the humanities, medicine, public policy, ethics and law. Her work on that project demonstrates her interest in leading vast, cross-cutting projects, said Susan Roth, Duke's vice provost for interdisciplinary studies.
"She is a powerful leader and an amazing collaborator," Roth said. "She'll have a university-wide impact."
Housed in bays 4 and 5 of Smith Warehouse, the Franklin Humanities Institute sponsors speakers, workshops and seminars that feature Duke's humanities faculty, while bringing in distinguished scholars from elsewhere as well. It also supports Duke's humanities labs, a series of interdisciplinary projects with physical space in Smith Warehouse. Jenson's Haiti Lab, which she co-directs with Laurent Dubois, was the inaugural humanities lab. Current labs include the Brazil Lab and the Ph.D Lab, with a new Story Lab starting soon.
The lab projects encourage faculty and students from across disciplines to congregate and work on a common topic or theme.
"The labs help people think outside the box of longstanding academic structures," Jenson said. "Humanities faculty are discovering the joys of teamwork on socially compelling subjects."