Just months after graduating from the Duke Class of 2014, KellyNoel Waldorf returned to the classroom in hopes of inspiring high school students to attend college. As a first generation college graduate, the North Carolina native wanted to motivate other students to attend college.
"I knew I wanted to work with the first generation demographic in some supporting way, whether that was with my career or volunteer work," Waldorf said. "So when I read an article about College Advising Corps, I thought, 'Who do I need to get an application from?'" 
Waldorf is one of seven advisors in Duke's College Advising Corps program, which launched last fall. Each advisor is placed into underserved North Carolina high schools where they work to increase the number of low-income, first generation students who enter and complete college.
Coming from the small town of Murphy, NC, Waldorf understands what it's like to grow up in an environment where there's not a lot of talk about going to college.
"It's a really small town, not a lot of support for college things, college-going culture," Waldorf said. "I didn't have any college advisors. There were two counselors who also served other roles, and they each had a caseload of 300 to 400 students."
The situation is similar at Bartlett Yancey High School in Yanceyville where Waldorf now advises students on writing college essays, preparing for the SAT and ACT tests and understanding financial aid options.
In most cases, the leadership and lessons from the young Duke grads hit home with high school juniors and seniors because they're only several years apart in age from their mentors.
"A lot of the time they are more likely to listen to what we have to say because we've just gone through the process and we can still be relatable," Waldorf said.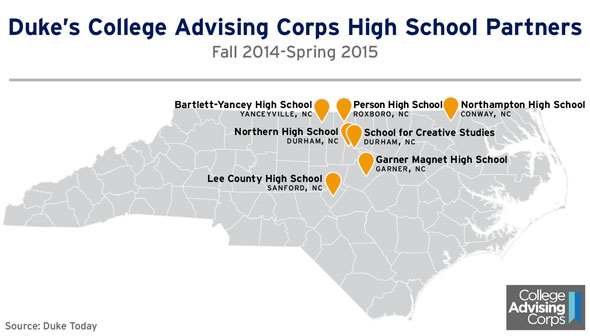 More than half of Duke's first group of advisors had been eligible in college for the Pell Grant Program, which provides need-based grants to low-income undergraduates. As a financial aid recipient, Waldorf said she was able to explain different loan options to her students.
"I didn't know what subsidized and unsubsidized loans were. My students don't know what that is. A lot of it is just looking at the language that's being used, (such as) early decision, regular decision, all those things, and breaking it down in a presentation, so I can bring the process down to their level."
In her first year of mentoring, Waldorf helped nearly 150 seniors apply to college. Some of her students are already receiving acceptance letters.
"It's exciting when they get to come in and tell me that they got accepted," Waldorf said. "Knowing that I'm one of the first people that they want to tell makes me feel like I have been able to reach out to them in the few months that I've been her
Duke's College Advising Corps will expand this year to at least nine additional schools. Duke is the 24th higher education institution to partner with the College Advising Corps national program.