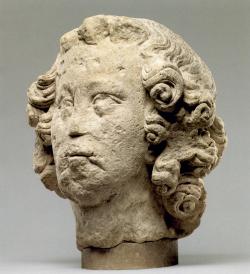 For the sculptor who works the old-fashioned way -- with chisels and hammers -- what you see is not nearly as important as what you hear.
"Splitting a stone is like tuning a bow," sculptor Simon Verity told a Duke audience Tuesday. "Throughout the process, you always want to keep the notes in harmony. And the sound of the hammer is all you need to determine if you've gone too deep."
A 21st century master of this millennia-old art form, Verity is known for his design and carving work on the West Portal of the Cathedral of St. John the Divine in New York as well as several other garden sculptures and fountains around the world -- including Wells and Exeter cathedrals in England. He is an artist in residence at Duke for the next week, spending time with faculty and students while also re-creating the head of an angel statue that was once a part of Notre Dame Cathedral in Paris.
Verity will work at the printmaking studio in Bay 12 of Smith Warehouse. Students, faculty, staff and members of the community are encouraged to visit as Verity chisels away at a block of French limestone over the course of his 10-day residency. Verity, who also lectured on stone carving at the Nasher Museum in 2013, will discuss the 13th century angel's head he is sculpting on Jan. 27 at the Nasher and will also visit with visual art students throughout his 10-day stay. The project is part of the Bass Connections-funded "Lives of Things" initiative involving the departments of electrical engineering and art, art history and visual studies.
On Tuesday, Verity showed photos from various stages of the stone carving process on the exterior of St. John the Divine, from smooth blocks of limestone to exquisitely detailed figures decorating the cathedral.
Art historian Caroline Bruzelius said the aim of Verity's residency is to connect the public to the often-weathered fragments of medieval sculpture in museums around the world, including the Nasher's own extensive collection. The head Verity is re-creating was part of a statue at Notre Dame Cathedral damaged during the French Revolution.
"What we now have of medieval sculptures look [less like art] and more like a row of heads the day after the French Revolution," Bruzelius said. "We want to expand the public's capacity to understand the original contexts of the medieval fragments in the Nasher Museum, rather than as rows of floating heads against white walls."
First-year student Yiou Wang said prior to Verity's talk, she had little idea of the intricacy of the carving process.
"It was very eye-opening to see every stage of the [sculpting] process," Wang said. "It makes you stop and look at these statues more carefully when you know the work behind them."
Verity is unusual in his insistence on only using traditional carving tools such as hammers and chisels in an era where many of his sculpture compatriots utilize electric power tools, said Bruzelius.
Once Verity's sculpture is complete, faculty and students in art history and electrical engineering will usewill use interactive display technologies to create a three-dimensional scan of the new statue and then deconstruct it, an attempt to determine precisely how it fell into disrepair.
"Our project is part of an encounter between modern technologies and a tradition of stone carving that goes all the way back to the Bronze Age," Bruzelius said.
In addition, two graduate students, Kyle Wilkinson from the MFA program and Jessica Pissini, a master's student in historical and cultural visualization, are creating an educational video on stone carving for use at the Nasher Museum.
Verity will hold a gallery talk at 4 p.m. Jan. 27, at the Nasher Museum of Art. For more information about Simon Verity's residency, click here.