Leadership Academy Welcomes 26 New Members
Duke professional development initiative begins with sixth class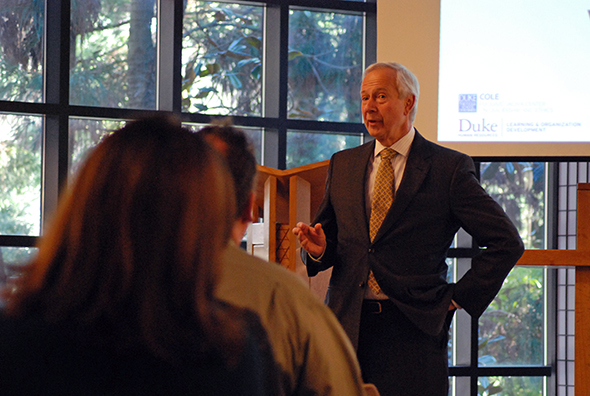 The largest class yet of the Duke Leadership Academy began its annual program this week as 26 nominated faculty and staff, their sponsors and Duke leaders gathered for a kickoff event.
With Duke President Richard H. Brodhead offering a welcome to the group, the sixth class of the program received a hint of what to look forward to in 2015, as well as words of encouragement from Brodhead.
Duke's president shared anecdotes of his time as a professor at Yale University and how he grew as a leader in the process. He also told stories of his time at Duke, noting the importance of better understanding people and their roles from across the university and health system.
"People want to work in the name of something bigger than themselves and each leadership role has a job to remind others of the larger community they're contributing to if they bring their best energies," Brodhead told the group. "You have that potential in the areas where you work and now we want to help groom you to fulfill that potential."
The Duke Leadership Academy, which is sponsored by Duke Human Resources and led by Learning & Organization Development, is a nearly year-long program designed to foster personal and professional growth and nurture a pipeline of future leaders at Duke. The curriculum is based on the Fuqua/COLE Leadership Model and research-based best practices in management and leadership.
During the academy, participants hear from guest speakers and receive a 360-assessment and instruction on leadership principles. They also complete an Action Learning Case Study project.
"I'm going to gain connections and relationships with people who will have great tips for me with what I can do for myself and ideas to bring from other areas of Duke back to the Economics department," said Lori Boodee, administrative manager for the Department of Economics. "It means a lot to me to have been nominated and I'm excited to gain perspective."
Deans or vice presidents nominate class members for the program. This year, Leadership Academy members are:
Jennifer Ahern-Dodson, assistant professor of the practice in Writing Studies and director of outreach and Thompson Writing Program director of language arts and media program, Trinity College of Arts &Sciences; Lori Boodee, administrative manager for the Department of Economics, Trinity College of Arts &Sciences; Melissa Bostrom, assistant dean for graduate student professional development, The Graduate School; Kristen Brown Smalley, senior philanthropic advisor for Gift Planning, University Development; Dan Cantrell, senior manager of IT, Duke Law School; Cash Davidson, manager of engineering and planning, Facilities Management; Sherry DeLoach, director of procurement services, Finance; Rebecca Dupre, director of research advancement program and business manager for Civil Engineering, Pratt School of Engineering; Donna Dyer, director of Career Services, Sanford School of Public Policy; Michael Evans, director of marketing and communications, School of Nursing; Bridget Fletcher, assistant director for student services in Professional Masters Program, Pratt School of Engineering; Gavin Foltz, director of Office Corporate Research Collaborations, School of Medicine; Kim Garcia, director of development special events for Development Services, University Development; Molly Goldwasser, manager of institutional assessment and accreditation, Academic Affairs; Pennington Graham, clinical instruction manager, School of Nursing; Barbara Holbrook, director of employee travel and reimbursement, Finance; Chuck Hunter, manager of financial performance and quality assurance, Human Resources; Susan Kline, chief administrator of Department of Pediatrics, School of Medicine; Charley Kneifel, senior technical director, OIT; Evan Levine, director of academic and media technologies, OIT; Carole Levine, director of Alumni Admissions Program, Duke Alumni Association; Linda Lytvinenko, assistant director, Sanford School of Public Policy; Alice McKenzie, director of administration and operations for Major Gifts and Special Incentives, University Development; Clarybel Peguero, director of Fraternity and Sorority Life, Student Affairs; Deb Reisinger, lecturer in French and director of Cultures and Languages Across the Curriculum (CLAC) Initiative, Trinity College of Arts &Sciences, and John Vaughn, director of Student Health, Student Affairs.