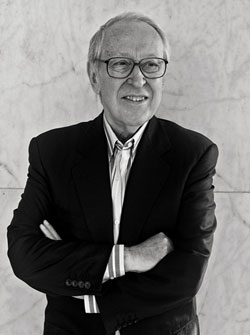 Turkish scholar, poet and translator Talât Sait Halman passed away last month at the age of 83.  A mentor, respected colleague, and friend to Turkish studies scholars around the world -- including at Duke -- Halman was Turkey's first culture minister and most recently dean of humanities at Bilkent University in Ankara. 
The Duke Middle East Studies Center is organizing a tribute celebrating Halman's life and work at 6 p.m. Thursday, Jan. 8, in the Thomas Room of the Lilly Library. The tribute will include remembrances as well as readings from some of Halman's literary works.
Speakers will include Duke Professor Emeritus of Islamic Studies Bruce Lawrence, Duke Associate Professor of Turkish & Middle Eastern Studies Erdağ Göknar, UNC-Chapel Hill Professor of Religious Studies Carl Ernst, and Halman's son, Professor Hugh Talât Halman.  
Hugh Talât Halman received his MA and his PhD in Islamic studies at Duke under Bruce Lawrence's supervision. An expert on Khidr, the companion of Moses in the Holy Qur'an, the younger Halman is currently a tenured associate professor at Central Michigan University.
"We have lost not just a scholar, but a mentor and generous friend," said Göknar, who has collaborated with Halman. "Talât Sait Halman was an enlightened poet, translator and professor who had an inexhaustible mind and a youthful soul. As a translator from and to Turkish, he carried hundreds and hundreds of poems, stories and dramatic plays, across several languages.
"He helped and supported many of us back when Turkish studies didn't even properly exist in the academy. He worried less about his legacy than about the future he tirelessly prepared for his students and disciples. We will miss him dearly."
Sait Halman was Lawrence's first Turkish teacher five decades ago.  "I recall his energy, intelligence and good will, with deepest gratitude," Lawrence said. "In joyous memory of a great soul now departed, it is my fondest hope that he may have a triumphal entry, and glory, in the next world, as he did for his 83 years in this world."