Duke Honored for Sustainable Construction, Architecture
Environment Hall and Duke Gardens kiosk receive 'Golden Leaf' award
Two Duke construction projects were recently recognized by the City of Durham and local architects, developers and artists as part of the annual Golden Leaf Awards.
A new kiosk entry structure at Sarah P. Duke Gardens received an award voted on by a panel of four judges while Environment Hall tied for the top spot in public voting. As winners, each structure will be recognized with a Golden Leaf statue to display.
Each year, the awards recognize local properties that represent the best visual contributions to the Durham community and encourage design and maintenance that contributes to sustainability and usability of the Durham community. Here's how these two projects came to get recognized:
Duke Gardens Gothic Gate Kiosk – Award for Neighborhood Garden and Landscape
The kiosk was designed as a convenient and welcoming central spot just outside the Gardens' main gate near the Doris Duke Center. It's meant to act as a site where visitors can chat with Duke Gardens volunteer ambassadors. The volunteers assist visitors in planning visits and offer insight about programs and opportunities provided to the Duke and Durham community.
The kiosk, which includes a bench and table made from repurposed wood, is a temporary structure that precedes a planned major overhaul of the Gardens' front entry, now in the conceptual stage. It was designed by Ellen Cassilly Architect Inc. of Durham and built by Mulberry Restoration Inc. of Cedar Grove.
Read more about the kiosk's award.
Environment Hall – People's Choice Award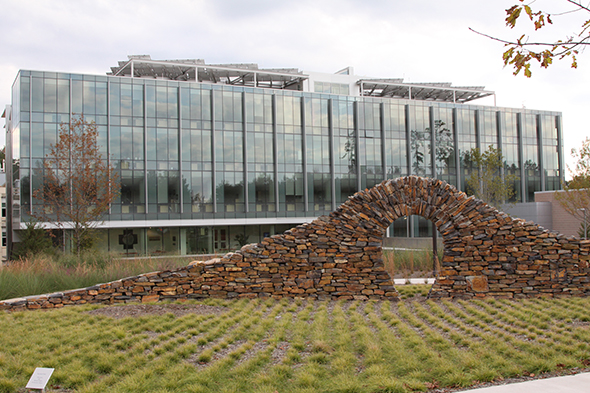 The five-story, 70,000-square foot home of Duke's Nicholas School of the Environment opened in April 2014. It's designed to meet or exceed the criteria for LEED Green Building platinum certification, the highest level of sustainability.
The building houses five classrooms, a 105-seat auditorium, 45 private offices, 72 open office spaces, a 32-seat computer lab, an outdoor courtyard and an environmental art gallery, as well as conference rooms, shared workrooms and common. During construction, the project diverted construction and demolition waste from landfills by sorting on and off-site into individual recyclable categories.
Green features range from rooftop solar panels and innovative climate control and water systems, to special windows that moderate light and heat, to an organic orchard and sustainably designed landscaping. A full list of features is available online.
Boston-based Payette Associates designed the building.