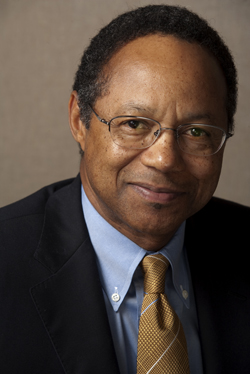 A. Eugene Washington, M.D., an internationally renowned clinical investigator, health-policy scholar and executive at the University of California, Los Angeles (UCLA), will become Duke University's next chancellor for health affairs and the president and chief executive officer of the Duke University Health System, Duke President Richard H. Brodhead announced Tuesday.
Washington, 64, currently serves as vice chancellor for health sciences, dean of the David Geffen School of Medicine and chief executive officer of the UCLA Health System, where he is also a distinguished professor of gynecology and health policy and holds the Gerald S. Levey, M.D. Endowed Chair. At Duke, he will succeed Victor J. Dzau, M.D., who stepped down as the university's senior medical officer on June 30 to become president of the Institute of Medicine (IOM) of the National Academy of Sciences.
Washington has been a national leader in assessing medical technologies, translating research into health policy and shaping health care practice. He helped spearhead efforts to change clinical practice and policy guidelines for prenatal genetics, cervical cancer screening and prevention, and reproduction-related infections. He also has been a national thought leader in calling for academic health systems to reconfigure broadly and to assume the lead in creating new models for research, education, clinical care and community engagement.
In November, he received the David E. Rogers Award from the Association of American Medical Colleges and the Robert Wood Johnson Foundation for his "major contributions to improving the health and health care of the American people." His work also has been recognized with the Outstanding Service Medal from the U.S. Public Health Service and election to the IOM and the American Academy of Arts and Sciences.
"Gene Washington has a track record of outstanding leadership in every aspect of the work of an academic medical center -- research, education and patient care," said Brodhead. "A gifted communicator, he has special skills at getting people to work together in support of the larger mission. He has been at the forefront of the national effort to make patient outcomes the focus of health care. And he is a champion of community health who will bring that commitment to Durham. I'm delighted to have him join the Duke team."
Washington was selected following a national search by a 15-member Duke committee. His appointment was approved by the Duke University Board of Trustees and the Duke University Health System Board of Directors.
"This was a comprehensive, thoughtful and inclusive search process that gave us a chance to review and meet with many outstanding candidates," said G. Richard Wagoner Jr., immediate past chair of the Duke University Board of Trustees, who chaired the search committee. "With his deep clinical and research experience, commitment to education and demonstrated success as the head of a top-tier academic medical center, Gene Washington will lead Duke to a new level of excellence and service."
Washington, who will begin his new role on April 1, will oversee one of the world's leading academic and health care systems, including Duke's medical school, nursing school and extensive programs for patient care, biomedical research and community service.
"In the world of health, this is a particularly promising time," Washington said. "And without question, Duke is uniquely positioned among the very top health sciences institutions to take advantage of the opportunities available, given its extraordinarily accomplished people, exemplary programs across mission areas and enormously supportive partners. I feel honored and privileged to assume this key leadership role, and I look forward to working with my new colleagues to realize our full potential. Together, we will continue to build the future of science, education and health -- to the benefit of the communities and populations we serve."
Prior to joining UCLA in February 2010, Washington served as executive vice chancellor and provost at the University of California, San Francisco (UCSF), where he was actively engaged in the training of medical students, residents, fellows and junior faculty, oversaw the research enterprise and steered strategic planning. He co-founded a research center that studied medical effectiveness for diverse populations and co-founded the UCSF-Stanford Evidence-based Practice Center. He also led the implementation of a UCSF diversity initiative and promoted campus-wide programs to enhance the quality of life for faculty, staff and students. Earlier at UCSF, he chaired the Department of Obstetrics, Gynecology and Reproductive Sciences for eight years. Prior to joining the UCSF faculty, Washington worked at the Centers for Disease Control and Prevention in Atlanta.
"I was impressed with Gene Washington's extensive experience leading successful clinical, education and research enterprises at a health system level, and his strong commitment to excellence in all of Duke's missions of research, education and clinical care," said Barton F. Haynes,M.D., Frederic M. Hanes Professor of Medicine, Immunology and Global Health and director of the Duke Human Vaccine Institute, who served as vice chair of the search committee. "His proven record for bringing everyone in the health system to work together will allow Duke Medicine to move to the next level of excellence and prepare well for the future."
Washington, a native of Houston, said his values stem from a childhood growing up as the youngest of five children of a minister father and a mother who was a homemaker.  "Growing up in Houston, I benefitted from a tremendously nurturing and supportive community and family who instilled in me the core values of excellence, integrity and service -- and these values have remained my life-long drivers," said Washington. 
A 1976 graduate of the UCSF School of Medicine, he completed undergraduate study at Howard University, graduate studies at both the UC Berkeley and Harvard schools of public health, and residency training at Stanford University.
"Gene Washington understands the challenges and opportunities that lie ahead for health and health care," said Thomas Gorrie, chair of the Duke University Health System's Board of Directors. "His experience, knowledge and proven leadership make him the ideal person to oversee Duke Medicine at a time of great change and innovation."
Washington has served on numerous professional and government boards and committees, including the board of trustees of the Robert Wood Johnson Foundation, the scientific management review board of the National Institutes of Health, the board of directors of the California HealthCare Foundation, the editorial board of JAMA and the board of directors of The California Wellness Foundation, which he currently chairs.
He is the founding chair of the board of governors of the Patient-Centered Outcomes Research Institute (PCORI), a national organization authorized by the landmark 2010 Patient Protection and Affordable Care Act to advance clinical effectiveness research. PCORI recognized his significant contributions as founding chair by establishing the Eugene Washington Engagement Award, which supports active integration of patient, stakeholder and research communities during the research process.
Washington's colleagues at UCLA praised his engagement and collaboration across the university.
"Dr. Washington has admirably served UCLA since his arrival in 2010, helping to elevate our medical enterprise to world-class status," said UCLA Chancellor Gene Block. "He has proven himself an exceptional leader, dedicated to improving the health of citizens across the Los Angeles region and far beyond. As difficult as it is to see him go, I congratulate Dr. Washington on this tremendous new opportunity, and wish him great success in his new ventures."
"Gene's wise and extraordinarily innovative contributions to intellectual life at the Geffen School of Medicine will reverberate for years to come," said Kelsey Martin, M.D., professor and chair of biological chemistry at UCLA and chair of UCLA Neuroscience. "He is a deep and tireless optimist who can wrestle the silver lining out of even the darkest cloud. Gene has proven that the strongest leaders combine a deep moral conviction and an unwavering commitment to excellence with genuine human warmth, compassion and humor. Duke is more than lucky to have him as their incoming chancellor."
Added Judy Olian, dean of the UCLA Anderson School of Management, "Gene Washington has been a remarkable leader and a totally engaged partner across the entire university. It's evident that his vision for the health science's research and clinical enterprise is rooted in his fierce desire to improve the well-being of every life on this planet. The substantial advances of the health sciences under Gene have been a source of pride to all of us at UCLA."
Washington and his wife Marie, who has retired from a career in finance and is active on the boards of several non-profit organizations, have been married for 32 years. They have three young adult children: a son Brooks and two daughters, Caroline and Erin.
"Marie and I are delighted to be joining the Durham and larger North Carolina communities, and we look forward with excitement to fostering partnerships to work to improve life across the region," Washington said.