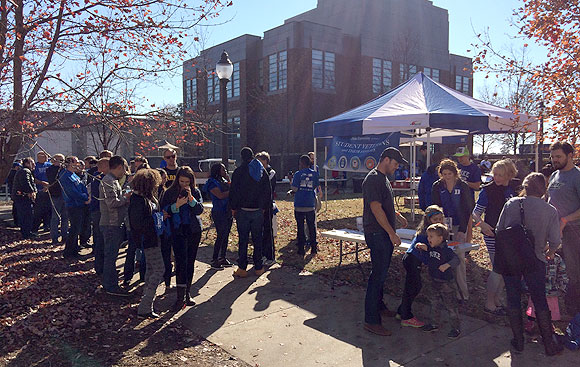 When Duke and Army's basketball teams tipped off on Nov. 30, there were some special guests in the house at Cameron Indoor Stadium.
As part of a Military Appreciation event, more than 150 military veterans and their family members received complimentary tickets to the game and to a pre-game celebration.
"The event provided an opportunity for student veterans to connect and develop relationships with peers across campus, peers they might not otherwise have met. That's what they have asked for, and the event was part of trying to creating those opportunities for them," said Clay Adams, associate Dean of Students said. "They've done so much for us, I hope we can continue to create more opportunities like this in the future."
"It was a really bright, happy occasion," said Michael Peace, graduate student in pathology, basketball committee chair for GPSC, and co-organizer for the event. "I got to meet a few of our veterans and their families. They were genuinely excited to be recognized and celebrated in this way."
Inside the arena, the expressions of appreciation continued. The scoreboard welcomed veterans to the game. During timeouts, veterans in the crowd were highlighted on the video display. At one point, all veterans were asked to stand and be recognized, to great applause from the crowd. 
"We wanted to honor veterans for their service. That was certainly part of the reason for this event," said Adams. "More importantly, we wanted veterans to know that there is a real, supportive community here for them and for their families."
The event was held in collaboration with Student Affairs, the Graduate and Professional Student Council, Duke Athletics, and the Basketball Campout Committee.
"It was a great opportunities for all student veterans and their families to be together all in one place. We also reached out to Wounded Warriors and other community organizations and brought them into the experience, too," said Peace. "We got great feedback from our veterans. This is something we hope to do again in the future."