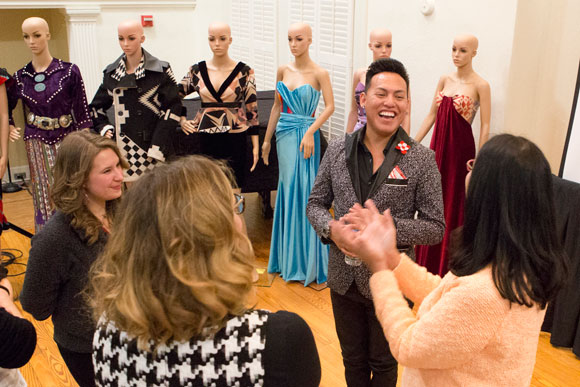 Designer Shayne Watson talks with guests at Wednesday's discussion on the use and misuse of Native American fashions. Photos by Les Todd/Duke University Photography
From feathered headdresses to war paint, pop culture icons like Pharrell, Heidi Klum and Gwen Stefani have all been caught misusing Native American symbols.
"You see all of these celebrities on the covers of magazines or at fashion shows and concerts wearing stereotypically 'native' designs or objects and every single time they have been called out and had to apologize publicly," Susan Scafidi, academic director of the Fashion Law Institute, said. "So why does this keep happening, year after year? Why do so many people not consider this to be unethical?"
Native American fashion experts Scafidi, Jessica Metcalfe, Adrienne Keene and Shayne Watson addressed ethics in the indigenous peoples fashion industry at a Wednesday night panel called: "Appropriate? Or Appropriation?: Native American Fashion and Identity." The event included a display of Native American-designed collections and was co-sponsored by the Forum for Scholars and Publics, #Artstigators and Team Kenan at the Kenan Institute for Ethics. Scafidi, Metcalfe, Keene and Watson also spent time this week in workshops and lunch talks with students and faculty members.
Lou Brown, the director of programs for the Forum for Scholars and Publics, said the panel was not only meant to influence the Halloween and Thanksgiving discussions of Native American representation but also raise awareness of native issues on Duke's campus, where just 1 percent of students –- or roughly 65 undergraduates -- identify as Native American.
"Because there aren't a lot of Native Americans on this campus, the non-Native American members of the community tend to think they're not here," Brown said. "This panel was a way to [highlight their presence] on campus and to bring to light the way Native Americans are part of the modern world. So much of the representation in the modern world is about the mythic Native American from the past."
According to panelist Adrienne Keene, author of the blog Native Appropriations and a citizen of the Cherokee Nation, these cliché images erase the 566 diverse indigenous cultures legally recognized by the United States government.
"One of the main harms of cultural appropriation is how it reduces distinct identities to a single stereotype," Keene said. "These stereotypes instead become the 'real Indians,' to the point where people actually come up to me and say I don't look how they had expected me to look."
Such stereotypes carry into the fashion world as well, where distinct patterns and textiles are given tribal names without the input or permission of Native American designers, like an Urban Outfitters' line of "Navajo" undergarments and socks in 2010. Jessica Metcalfe, author of the blog Beyond Buckskin and a member of the Turtle Mountain Band of Chippewa Indians, said stereotypical and unauthorized representations of Native American fashion prevent indigenous peoples from representing their cultures on their own terms.
"Ripping off Native American designs is extremely common and widely accepted in the fashion industry," Metcalfe said. "For example, Oprah Winfrey said on her talk show that Ralph Lauren was the epitome of the American Dream. But for us, this is extremely problematic because he has built an empire on stealing our symbols and culture."
Metcalfe added, "This not only erases us from the discussion but turns all indigenous peoples into commodities to be bought and sold in order for someone else to achieve the American Dream."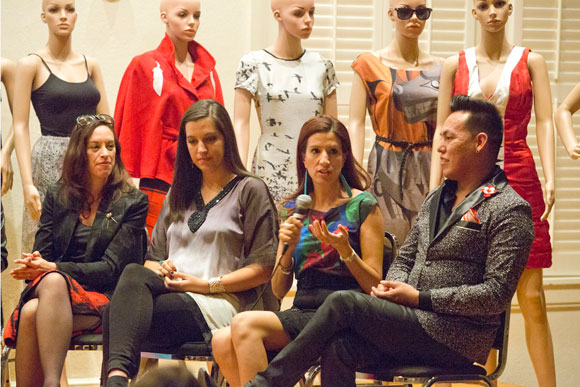 Despite the Native American community's outrage toward brands that "rip off" Native American designs, Metcalfe and Keene said non-Native Americans should buy and wear clothes created by these Native American designers, who are the only ones who can really determine which symbols and outfits are appropriate. Metcalfe's Beyond Buckskin Boutique features clothes from 44 Native American designers, all of which are "okay for non-Native Americans to wear."
Designer and panelist Shayne Watson, a citizen of the Navajo Nation, considers it an honor for people of all backgrounds to wear his label, which includes everything from evening gowns to biker jackets drawn from the Navajo Nation's rich and diverse designs.
"Like other Native designers, I love sharing my clothes with non-Native Americans," Watson said. "Buying [Native American-designed] clothes encourages people to engage with a different culture in a respectful way."
First-year student Taylor Miller, a citizen of the Navajo Nation, said she was happy to see a diverse group of Duke students, faculty and community members discussing Native American issues.
"It's pretty awesome that Duke is actually addressing appropriations of Native American culture," Miller said. "It's very inspiring to see how many people want to learn about our issues."
For more information on the Forum for Scholars and Publics and a list of upcoming events, visit its website.