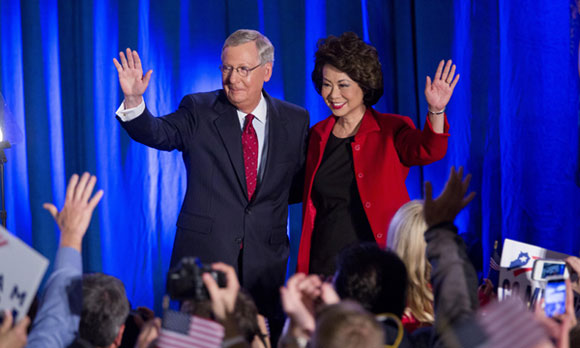 Mitch McConnell, slated to become the new Senate majority leader, and wife Elaine Chao celebrate his victory Tuesday.
Even though Republicans now control both chambers of Congress, don't expect a quick end to gridlock in Washington, Duke faculty said Wednesday.
The Republicans' success in Tuesday's midterm elections, which extended to North Carolina, may also signal that the state's short-lived battleground status is over.
Political science professor David Rohde said the transfer of Senate control from the Democrats to the Republicans, coupled with GOP gains in the House, is likely to intensify the policy conflicts between Congress and the president, "but not fundamentally alter the gridlock in Washington."
"The most important direct effect of the switch in Senate control will be that the new majority will be able to block any presidential appointments it wants to," said Rohde, who directs the Political Institutions and Public Choice Program at Duke. "On the other hand, they will have no power to fill vacancies themselves. Thus, probably increased gridlock on that front."
Political scientist John Aldrich added that with Republicans in control of both chambers, they run the risk of seeming "even worse than now if they fail to pass legislation."
One of the biggest challenges for the Republican caucus is can they agree on what to send to the floor in the House and Senate, he said.
"For example, focusing attention in the House on repealing the Affordable Care Act is a riskier plan for House Republicans today than it was before the election," Aldrich said. "With pressure to get something passed into law, it is likely that the Republicans will focus on issues like trade agreements and tax reform, where Republicans are likely to be able to work with the president."
That approach would leave many important domestic concerns unaddressed, Aldrich added, and the result could be that Republicans "pass just enough to make it seem like the congressional majority was not a 'party of no.'"  
Rohde said Republican leaders such as Senate Majority Leader Mitch McConnell will have to find a way to overcome Democratic filibusters and presidential vetoes.
"Thus gridlock will be difficult to overcome here, too," Rohde said. "So it is probable that most legislative action will revolve around the attempt to establish a party record on issues like climate change, immigration and financial regulation in preparation for the 2016 presidential election."
In North Carolina, where Republican House Speaker Thom Tillis ousted first-term U.S. Senator Kay Hagan, a Democrat, the GOP now controls both U.S. Senate seats, the governor's mansion and both chambers of the state legislature.
In 2008, Democrat Barack Obama reversed a long trend of North Carolina voters electing a Republican president. GOP hopeful Mitt Romney restored the state to red in the 2012 presidential election, though just slightly.
After Tuesday's results, Democrats might write off North Carolina as a battleground state in the next presidential election, said Kerry Haynie, an associate professor of political science.
"North Carolina seems to be firmly in the Republican column," Haynie said. "This means the state is likely not to be in the national spotlight as it was in 2008 and 2012. As a result, North Carolina issues may play more of a role in election outcomes in the state in 2016."
Hagan's defeat was a "heartbreaker for North Carolina Democrats," said Pope "Mac" McCorkle, associate professor of the practice of public policy at the Sanford School.
"In the end, the competing discontent with the governing philosophy, particularly symbolized in too many voters' minds by 'Obamacare,' overwhelmed Sen. Hagan and significantly limited Democratic gains at the state level," said McCorkle, who has worked as a political consultant to former N.C. Democratic Gov. Mike Easley and others.Most Democrats "took a page from the failed Republican strategy of highlighting social issues, rather than talking about the economy or other issues," said political scientist Paula McClain, dean of Duke's Graduate School.
"As much as Democrats have criticized Republicans in the past for focusing on social issues like abortion, some focused almost exclusively on issues that they felt would resonate with women, for example, Republican attempts to control contraceptives," McClain said. "While an important issue and one that many women voters were concerned with, it was not the overriding issue in the election for women."
Despite the change in leadership in Washington, no major changes are expected for higher education, said Chris Simmons, Duke's associate vice president for federal relations.
"A lot things Duke cares about, including student aid and federal research spending, are largely bipartisan issues and higher education in general receives broad bipartisan support," he said. "So when the presidency or control of Congress changes, each change brings new opportunities and challenges."