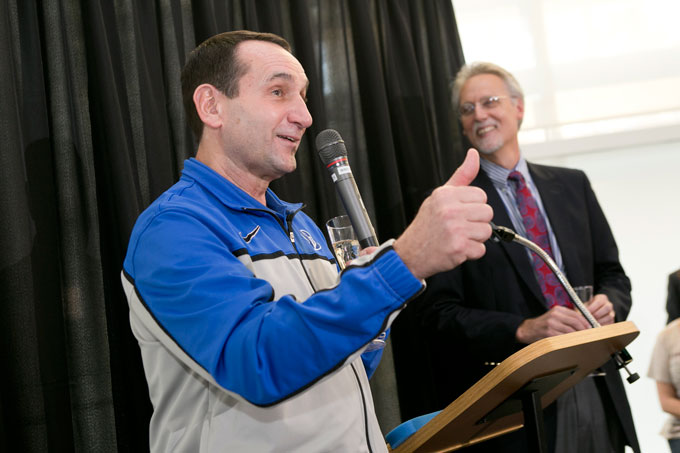 Duke Men's Basketball Coach Mike Krzyzewski celebrated another national championship today --- this time at the Fuqua School of Business. Fuqua's full-time MBA program was ranked number one Tuesday by Bloomberg Businessweek. The school held a champagne toast Wednesday to celebrate.
"Over a period of time, you guys have stayed cutting-edge," Krzyzewski told the crowd of students, faculty and staff. "You've been a team. You learn from one another if you are on a good team ... it's really the reason you won."
Dean Bill Boulding was in Dubai when the ranking was announced and said he was thrilled to return home to celebrate with the Fuqua community in Durham. He thanked faculty and staff who have "put so much into the school." Boulding also said it was nice to have someone from outside the community recognize Fuqua's efforts to develop leaders who value teamwork and collaboration. 
Bloomberg Businessweek editors attributed much of Fuqua's rise in the rankings to employer enthusiasm for hiring Fuqua graduates. "In our survey, recruiters noted that Fuqua students are exceptionally good at working collaboratively," a Businessweek reporter wrote in a story about the rankings.
Fuqua had been ranked number six by Bloomberg Businessweek in 2012.
Photos by Les Todd/Duke University Photography