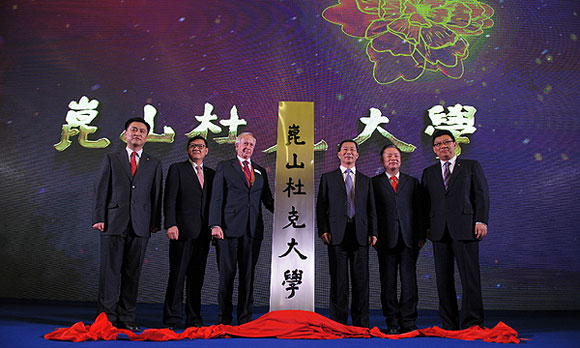 Duke President Richard H. Brodhead joins Chinese educators and Kunshan leaders at the opening ceremony for Duke Kunshan University.
Duke Kunshan University welcomed leaders from Duke and Wuhan Universities, as well as guests from China and elsewhere, for its formal campus opening ceremony on Monday.
The event, which began with a traditional "lion dance" in the ballroom of the DKU Academic Center, marked the formal dedication of the 750,000 square foot campus with a design that draws on traditional Chinese architectural methods, sustainable building practices specific to the Kunshan climate and terrain and the latest developments in educational community design.
In remarks during the celebration, Duke President Richard Brodhead emphasized DKU's pioneering nature. "As we think about the promise and potential of DKU, we hope that this campus lights the way toward a new model of global education – the best of American liberal arts education, united with the best of Chinese traditions of learning," Brodhead said.
During the three-hour opening ceremony, Duke and Wuhan universities announced the formation of a joint research center housed at DKU that will facilitate collaborative research by faculty members from Duke, Wuhan and other universities.  Provost Sally Kornbluth and Wuhan Executive Vice President Feng Youmei unveiled a plaque officially marking the creation of the WHU-Duke Research Center at DKU.
A 'lion dance' opened the DKU ceremonies Monday.
Jiangsu Province Vice Governor Cao Weixing noted that the cooperation between Duke and Wuhan universities to create DKU is an important element of the province's efforts to internationalize its educational offerings.  He praised DKU as an environment for exploration and innovation, and expressed his hope that DKU will draw on the strengths of Duke and Wuhan to become a top world-class university
Minister Counselor for Public Affairs Thomas Hodges of the United States Embassy in Beijing remarked that the opening of the DKU campus is not only an auspicious occasion, but also represents a significant and positive step in Chinese-U.S. educational relations.
Provost Emeritus and DKU Board Chairman Peter Lange applauded the DKU community, including many Duke faculty members and undergraduate students there this semester, for creating a vibrant and robust intellectual community.  Lange shared his delight in hearing from a DKU faculty member who said teaching at DKU this semester has been the highlight of a 45-year teaching career.
Speaking in both English and Mandarin so fluent it drew applause from Chinese attendees, DKU faculty member Don Snow said that it is "simply a joy to work with and get to know the students, who have an infectious enthusiasm and desire to learn, willingness to work hard and a fine sense of humor."
Snow was followed by Duke junior Tarela Osubeni, a member of this semester's DKU Global Learning Semester class.  Also speaking in Mandarin, Osubeni spoke of the ways in which DKU students have gained international understanding. "Each new friendship brings knowledge and world perspective," Osubeni said. 
Duke projects manager Dudley Willis takes the stage with other construction team leaders.
Duke Projects and Engineering Manager Dudley Willis was among a small group of construction team leaders who were honored by Kunshan Mayor Lu Jun and DKU Chancellor Liu Jingnan for their achievement in building the DKU campus.  Willis has been on site in Kunshan for two years, overseeing the DKU construction process.
DKU welcomed its first students in August 2014. Students and faculty members moved into the campus conference center in October, after being housed off-site for the beginning of the semester. The university is currently operating out of its conference center, and will begin bringing residence halls, faculty housing, and the main academic building online soon.
On Sunday, Duke alumni in China gathered at the DKU campus for an alumni forum organized by the Duke Alumni Club of China. More than 50 alumni attended the half-day event that featured DKU campus tours, discussions with DKU Chancellor Liu Jingnan, a conversation with Duke Trustee Gao Xiqing '86, and a series of alumni-led seminars on e-commerce, health care and finance in China. 
Below: Duke alumni gather at DKU on Sunday.