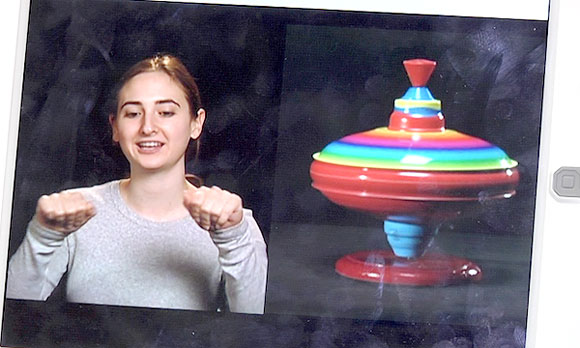 A tablet-based app captures how toddlers react to stimuli, a key clue in the diagnosis of autism.
Read More
Imagine if you could determine your toddler's risk for autism with an app.
An interdisciplinary team of doctors, engineers, and researchers at Duke University and the Duke University Medical Center (DUMC) is close to making that vision a reality.
Currently, one of nine preschool-aged children have an impairing psychiatric or developmental disorder, like autism or an anxiety disorder, says Dr. Helen Egger, chief of the Division of Child and Family Mental Health and Developmental Neuroscience at DUMC.
Yet, Egger adds, many of these children don't receive care, in part because evidence-based tools to screen, diagnose and treat kids are expensive, time-consuming and not widely available. 
The goal of the Duke Information and Child Mental Health Initiative, of which Eggers is a lead member, is to change all of that. 
By bringing together child psychiatrists, psychologists, neuroscientists, engineers and computer scientists, the initiative seeks to revolutionize the way early childhood mental health disorders get diagnosed and treated. 
The initiative focuses on the very young – children between 16 and 30 months.
"This is the time of greatest brain development and development across various domains," Egger says. "So our interest is saying, 'Early intervention matters.' We need to identify these problems and get treatment to kids."
To do this, members of the joint university-medical center venture are working together to create innovative tools to gather, analyze and interpret information about a child's behaviors and then translate this information into specific, evidence-based guidance.
Among these tools is a tablet-based application that uses automatic computer vision analysis to capture the way toddlers respond to stimuli.  The technology, developed by Duke electrical and computer engineering professor Guillermo Sapiro, can detect and evaluate a toddler's eye-gaze, motor behaviors, social engagement and other behavioral cues while the child interacts with simple games on the tablet.
These behavioral cues can then be mapped against questionnaires and screening tests, developed with input from Duke child psychiatry expert Dr. Geraldine Dawson, for disorders like autism and anxiety.
Egger points out that "we're not saying your child has autism [with this app]. Or your child has an anxiety disorder. What we're really saying is, 'There are some things that increase your child's risk for having these issues. And we think that you should take these steps to seek guidance or seek an assessment.'"
The researchers hope the simple, affordable test could one day be used around the world to increase access to mental health care for children.
The project falls under the umbrella of the Information Initiative at Duke (iiD), an interdisciplinary computational research effort to make sense of "big data" -- collections of information characterized by massive size, tremendous variety and rapid change.
Robert Calderbank, director of the iiD, says the multidisciplinary aspects of the effort are key to its advances.
"If technology is to transform health care, then it must be informed by clinical practice, and we go beyond collaboration to draw engineers, mathematicians and clinicians into co-development," he explains.
In this instance, Calderbank says, "Helen Egger and Geri Dawson know what to look for when identifying risk factors, and Guillermo Sapiro knows what computer vision can find.
"What makes this project so powerful is that we have a group of experts, all leaders in their own fields, coming together to apply their expertise to a common goal."
Another initiative goal is to build a massive and detailed reference database that uses both new data gleaned from the app andexisting massive data sets and a diagnostic framework from Egger's long-term research on psychiatric symptoms in very young children. 
"By applying information science principles, we have an opportunity to take a fresh look at data from years of research, perhaps discovering correlations that might not have been apparent when the research was first done," Calderbank says.
This could potentially be good news for parents as well as practitioners, Eggers says.  
"My kid's having tantrums, they're having sleep problems, they may be having difficulties in their social relationships. Is this just normal for a 3-year-old? Is this normal for a 2–year-old? Or is this something I should be worried about? And we can answer that question."