You Don't Know Romance Novels
Faculty discuss a misunderstood literary form that celebrates strong women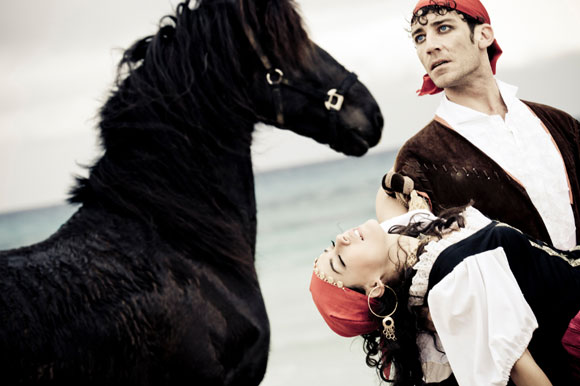 There's a lot more to romance fiction than pirates and black stallions. Supporters say the genre is based on smart, independent women who are proud of their sexuality.
Before Maya Rodale became a best-selling author of romantic fiction, she was one of its biggest critics. As an undergraduate English major at New York University studying women in fiction, she considered the genre "trashy."
"Usually teenage girls try to hide the fact they're reading romance novels from their parents," Rodale said. "I on the other hand refused to read them until my mom made me because I thought as an English major, I should be reading 'real' literature. And guess what? I loved romance the moment I read it."
Rodale, whose scholarly works about the genre include "Dangerous Books for Girls," was one of three panelists featured in Monday night's "Unsuitable #1" discussion hosted by the Forum for Scholars and Publics. Rachel Seidman, associate director of the Southern Oral History Program at the University of North Carolina—Chapel Hill, and Jackie Horne, a scholar of children's literature and author of the blog "Romance Novels for Feminists," also took part.
"Unsuitable #1" is the first in a series of public discussions of feminism and romantic fiction built around a new course for Spring 2015, "The Romance Novel," taught by history professor Katharine Dubois, who also publishes romance fiction under the pen name Katharine Ashe, and Romance Studies lecturer Laura Florand, who has written a series of romance novels as well. 
Florand said the "Unsuitable" series is designed to bring romance readers and writers as well as scholars from outside the genre into a larger discussion about women in literature. Unfortunately, according to Florand, most productive discussions of romance literature are stifled by close-minded critics of the genre—many of whom having never read a romance novel.
"I think the most annoying misconceptions about the genre for me is that these books are trashy and their readers dumb or out of touch with reality," Florand said. "And these judgments tend to come from people who have never read romance fiction."
Florand said the name of the series was inspired by the notion that novels featuring overtly sexual women is somehow "unsuitable," both for reading and public discussion.
Horne and Rodale used their experiences as writers and readers to discuss the stigma against romance fiction, while Seidman, who is also the founder of the "Who Needs Feminism?" movement, assessed recent trends in feminist discourse, both academic and popular culture.
All three panelists agreed that the shame associated with getting "caught" reading romance fiction was the biggest indication that romantic fiction still has a bad reputation.
"Why is it that we have to hide our romance novels in our nightstand drawers or under our beds?" asked Horne.
Rodale, in turn, posited that romance fiction is categorized as everything from "low brow," at best, to "stupid" or "absurd" at worst because it depicts women as independent, happy and very open about their sexuality.
"We are still so uncomfortable talking about sex and yet there are 9,000 romance novels being published every year by a $1 billion industry," Rodale added. "Clearly, this is not a subpar genre read by crazy cat ladies and desperate housewives. Someone you know—maybe even you yourself—reads romance novels."
Prior to attending the talk, second-year engineering student Ting Chen never considered reading romance fiction because she and her friends did not consider it "real literature." Now she is less hesitant.
"I realize now that I had this bad impression of romance novels just because I had heard other people criticize them," Chen said.
Rodale simply suggests people leave their inhibitions about the genre behind.
"It's okay to want a happy ending and to own your sexuality," Rodale said. "Be a proud romance reader!"
For more information about the "Unsuitable" series and "The Romance Novel" (History 248S), click here.