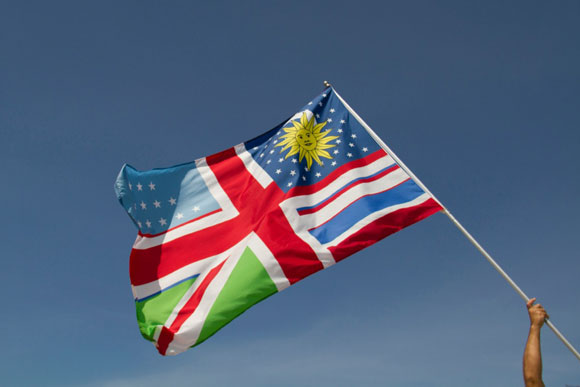 To create his newest piece of art, Duke professor Pedro Lasch needed all sorts of expertise – from historians and translators to singers, instrumentalists and composers.
He found it all in the campus directory.
Lasch's long labor of love, "Abstract Nationalism & National Abstraction/Anthems For Four Voices," debuts Monday, Oct. 27, with two performances at the Phillips Collection in Washington D.C., the first modern art museum established in the U.S. The premiere will be part of a three-day event there called International Forum Weekend.
In all, Lasch enlisted more than a dozen Duke faculty and staff members to pitch in.
"This shows we can produce art at Duke," he says. "It gets shown at the Phillips, but it gets produced here on campus."
The project is an evocative mix of nationalistic imagery and music that Lasch hopes taps into the powerful reactions people have to patriotic symbols.
It features six composite flags, each bearing an element of the flags of four separate nations. These composite flags will be carried by color guards and displayed as video art while the national anthems from each nation involved are sung live in the language of the next country in the alphabet. The musical scores were written by Duke PhD graduates Craig DeAlmeida and Aristides Llaneza.
One composition is a blend of the flags of Indonesia, Iran, Iraq and Ireland; therefore, the Indonesian anthem will be sung in Persian, while the Iranian anthem will be performed in Arabic, etc.
A second blends the United Kingdom, the United States, Uruguay and Uzbekistan, which means the Star-Spangled Banner will be performed in Spanish, the language spoken in Uruguay.
Lasch, a professor in the Department of Art, Art History, and Visual Studies, admits the performance may seem controversial. That isn't his intent.
"It does seem provocative because national anthems are full of emotion," he says. "To some it may seem controversial to do our national anthem in Spanish. But the U.S. is multi-lingual. The reality is a lot of anthems are sung in multiple languages."
In fact, the Spanish translation of the Star-Spangled Banner used in the performance was commissioned by the U.S. State Department in 1946, Lasch says.
The eight nations featured in today's performances are part of a larger whole. Lasch began the project in 2001 with schematic scores that included 192 countries broken into 48 groups of four, alphabetically. He worked both digitally and with paint to design the 48 composite flags, a challenge because he insisted the primary look or symbol of each of the four countries had to remain balanced and recognizable when married with three others.
Lasch applied the same rigor to the music, demanding that elements of each nation's anthem remain recognizable, even when performed in a new language and in very complex overlays.
"I'm glad I wasn't one of the composers," says Rodney Wynkoop, Duke's director of choral music, who is conducting the performances. "I was skeptical that all four anthems could work together simultaneously, just knowing how disparate they are. But the composers managed to do it well!"
Wynkoop helped recruit four instrumentalists and four singers to the project. This team effort, Lasch says, indicates the power of a university to create its own art – and not just critique the work of others.
"Universities have been consistently underestimated as cultural producers; people think contemporary art is only made in New York or LA or Chicago," he says. "But a university has, almost built within itself, not just the skills and the know-how, but people who just really love this stuff."
Monday's performances represent more of a start than finish for this project. Lasch hopes to adapt it – using other composite flags and anthems representing other nations – at museums elsewhere that focus on visual and contemporary art and also embrace music and social experimentation, he says.
"Given its renown for top quality art, but also its immediate proximity to Dupont Circle and Embassy Row in DC, we think the Phillips is the best launching pad for this," Lasch says. "But I expect to be working on it for the rest of my life."
Read more about Lasch and his project on the Phillips Collection blog.