Teamwork and Diversity Award Winners Recognized
President Brodhead recognizes university and health system employees
For 2015 winners, see this Duke Today story.
Amanda Thomas, a clinical nurse educator at Duke, is originally from Liberia. As Ebola spread in Liberia, she helped friends, family and other Liberian at-risk communities by shipping gloves, masks and other medical supplies to healthcare workers.
Her work to help start the international effort Project Liberia – Ebola earned her a Diversity Award as part of the annual 2014 Blue Ribbon Awards.
Each year, Duke recognizes university and health system employees for their efforts to promote diversity and teamwork, two of Duke's hallmark guiding principles. In addition to Thomas, Scooter Freeney, human resources director for Duke's Office of Information Technology (OIT), received a Diversity Award.
The Duke Annual Fund Alumni Giving Program and Duke Universal Influenza Vaccination Work Group each received Teamwork Awards for their collaborative workplace environments.
Duke President Richard H. Brodhead honored award recipients during a luncheon at Sarah P. Duke Gardens on Wednesday.
"The university is so big and there are so many different parts, that the best informed person in the world can't begin to know all of the people who work here and all the things they do," Brodhead said. "Each of these people did something no one asked them to do. And if they hadn't done it, no one would have known. It's just they made the world better. They made a better outcome."
Here are the Teamwork and Diversity award winners from the university and health system:
Teamwork Awards
Surpassing Fundraising Goals to Support Duke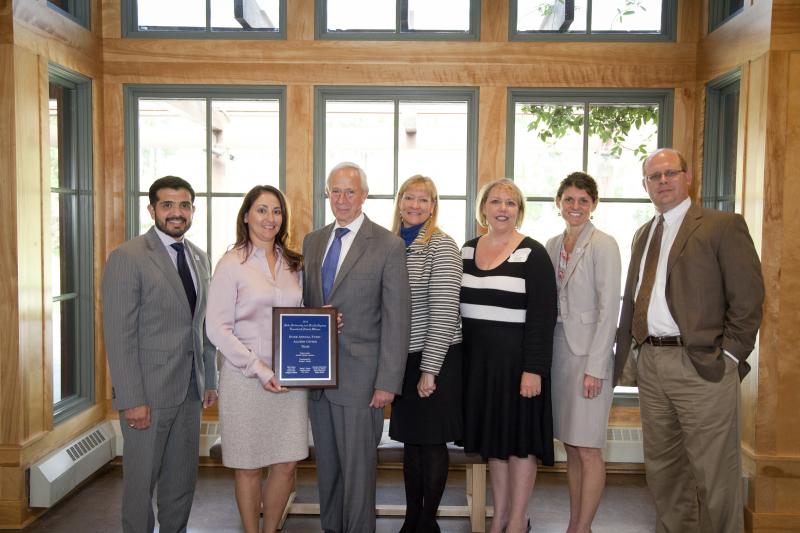 Team members of Duke Annual Fund's Alumni Giving Program regularly visit alumni in major cities such as Boston or Atlanta and organize Duke reunion events. 
The money the Alumni Giving Program raises as a result, about $160 million in new commitments last fiscal year alone, benefits all areas of Duke, from financial aid awards to Duke Chapel repairs, and goes toward the $3.25 billion Duke Forward fundraising campaign.
The team helps each other secure financial gifts for the university and works each year with more than 500 reunion volunteers.
"The Annual Giving team thrives on teamwork and truly sets the standard in our department," Ann Gleason, senior assistant vice president for Individual Giving, said in her nomination. "Their drive for excellence, open communication and trust has fostered collaboration that has had a tremendous impact on all of our departments exceeding their goals."
Team members are Jennifer Cameron, Matthew Cloues, Suzanne MacKinnon, Sarah Jane Martin, Stacy Davis, Margaret Dillard, Randy Garcia, Cheryl Robinson, Amy Crum, Pam Jones, Sharon White and Jennifer Gerber.
Stopping the Spread of Flu
Behind Duke's annual flu vaccination campaign, "Together We Can Stop the Flu," the Universal Influenza Vaccination Work Group is in charge of distributing coveted Duke blue Band-Aids to wording the vaccination policy for health care workers.
The Work Group was created in 2009, bringing together physicians and employees to help protect Duke and local communities from the flu. Last year, more than 17,000 employees were vaccinated, surpassing the federal government's goal of achieving a 90-percent vaccination rate for health care workers by 2020.
"Five years later, the team not only has successfully doubled the DUHS healthcare worker flu vaccination rate but the work group has also become a role model for effective collaboration and successful policy implementation within a large, complex organization," Duke University Hospital President Kevin Sowers said in his nomination.
Team members are Gail Shulby, Kathy Andolsek, Juanyetta Beasley, Tammy Berry, Doug Borg, Jill Boy, Susan Budinger, Connie Clark, Helen Cuccaro, Lynne Deitch, Carol Epling, Denise Evans, Regina Ford, Michelle Frey, Jean Hanson, Barbara Hendrix, Rita Oakes, Antoinette Parker, Kuldip Patel, Judy Prewitt, Jessica Thompson Melton, Richard Walsh, Cameron Wolfe and Jason Zivica.
Diversity Awards
Responding to the Ebola Crisis and Serving Underprivileged Families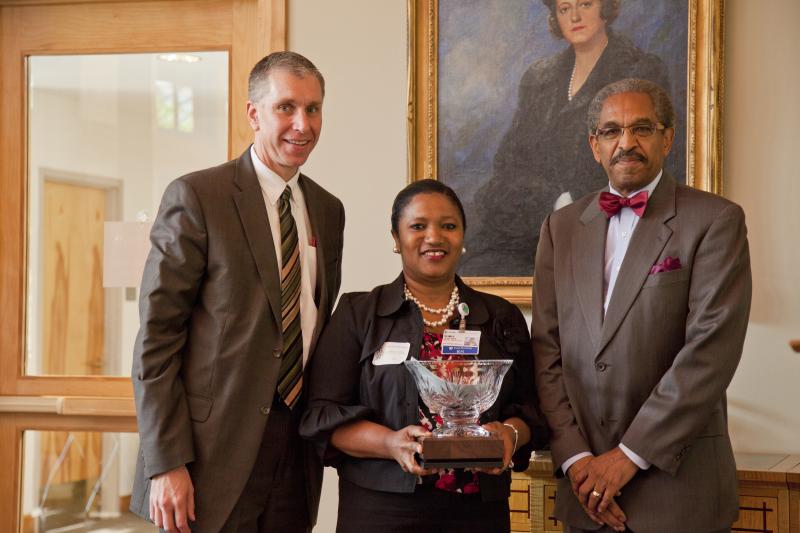 Since Amanda Thomas, the clinical nurse educator at Duke Regional Hospital, helped start the international effort Project Liberia – Ebola, she has helped ship 15 palettes and 95 boxes of disposable gowns, gloves, masks, shoe covers and other supplies to healthcare workers in Liberia.
Besides raising money to send medical supplies and preventative education materials to Liberia, Thomas also was recognized for her work as founder of WINGS (Women Inspiring in Networking, Giving Back and Social Awareness), which gives back to women and children in local underprivileged communities.
She serves as a mentor to young nurses and encourages their career development, as well as organizes events such as a Christmas lunch and present distribution at a women's shelter on Christmas Eve.
"Amanda Thomas is a leader with promoting the value of diversity in our department, hospital and country," said Tracy Stell, assistant director of staff education and development at Duke Regional Hospital, in her nomination. "Her work has served DUHS in promoting a positive image of staff caring about others."
Encouraging Underrepresented Minorities to Join the IT Field
This summer, the Duke Office of Information Technology hired five minority interns, from N.C. Central University and Durham Technical Community College, to encourage more black, Latino and female involvement in the IT field.
The idea was concocted by Scooter Freeney, human resources director for Duke OIT. He is a Diversity Award recipient for fostering a culture in OIT that embraces diversity, developing a cultural awareness program, and recruiting minorities for job openings, according to Tracy Futhey, Duke's vice president for information technology and chief information officer.
He goes above and beyond to foster a diverse workplace, she added. For example, Freeney set up a conference call with three Ivy League institutions to develop strategies for getting more women and underrepresented minorities interested in the IT field.
"Scooter has been a leader in identifying and implementing programs to address this challenge for OIT, and he has partnered extensively throughout all of Duke, and beyond, in the process," Futhey said in her nomination.