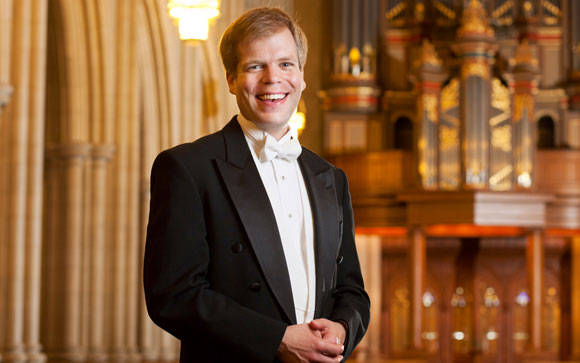 Duke Chapel's new organist, Christopher Jacobson, can play all of Johann Bach's works for the organ – in two days. He has done it twice before and will do it again Oct. 6–7 during the "J. S. Bach Marathon" concert at the Co-Cathedral in Houston, Texas.
Trained at the Eastman School of Music and St. Olaf College, Jacobson arrived at Duke this summer having been an organist at Trinity Episcopal Cathedral in Columbia, S.C., and the National Cathedral in Washington, D.C. At Duke, he plays all three of the chapel organs – Aeolian, Flentrop and Brombaugh – during weddings, funerals, worship services, university events and recitals, as well as the organ in Goodson Chapel during Divinity School services.
Duke Today sat down with Jacobson to ask him about Bach, his new job and marathons – both musical and running.
You're about to play all the organ works of Bach. How many pieces is that, and how long does it take?
The exact number of organ works by Bach is still today debated by scholars, but the general corpus is just under 260 pieces – 257 to be exact. It takes about 22 hours to play all of them. During the concert, I play for about 90 minutes at a time, take a 10-minute break and then play again. I do that seven times each day.
Why Bach?
Not just for organ but for any Western instrument, Bach's music still represents the pinnacle of musical expression – the performer's supreme challenge, the listener's supreme delight. It's music that is regarded as some of the finest of human creation just as Shakespeare's pen produced some of the finest in literary art.  As composer Johannes Brahms once said, "Study Bach.  There you will find everything."  Or as Albert Einstein put it: "This is all I have to say about Bach: listen, love, play, revere – and keep your trap shut."
You not only play music marathons, you also run marathons….
I've been running since middle school and biking since college. I've been doing more distance events: I've done a couple marathons and a couple 100-mile bike rides. I find that building up that sort of mental stamina to keep your physical body going plays directly into the mental stamina it takes to play these incredibly complex pieces – some of which are only 30-second miniatures, others of which are over 20 minutes long depicting some of the richest tapestries of musical counterpoint ever composed.
You've played in a number of cathedrals, including the National Cathedral. How does Duke Chapel compare?
Duke Chapel is unique among all the places I've played. It is home to three of the finest organs in the world. It's kind of like having a Ferrari, a Porsche and a Maserati in your garage all at the same time.
How do you choose among them?
It depends on the style of music you're playing. The Aeolian is more suited for late 19th and early 20th century music. The Flentrop is built in a style well known to composers from the 18th–19th centuries.  The Brombaugh is suited for music from the 17th century and earlier.  Though there is lots of crossover it is extremely rare to have three varied instruments of this caliber all helping to glorify worship in Duke Chapel together.
The organ is not the instrument every child picks. How did you come to play it?
Most organists, myself included, come to the organ after taking many years of piano. For me the draw to the organ was watching some very fine organists practice and thinking, "Oh this instrument has four keyboards and the piano only has one; why is that?"  Each of those keyboards accesses a different sound world, and it's the art of combining these limitless sound worlds together in new and unique ways that I find so fascinating about the organ. It's the instrument that has the most tonal breadth of any Western instrument.
What music do you listen to?
I will listen to anything with good rhythm, melody and harmony – Bach (obviously), Mozart, Beethoven, Schubert – but I also like James Taylor and the Beatles. In the 20th century there's Bartók and Stravinsky.Some terrific composers of the present day are Zachary Wadsworth in Canada, the Scottish composer James MacMillan and Jonathan Dove in England.
What's next?
I've done tandem skydiving a few times. I'd like to do that more often.
J. S. Bach Marathon-Schools from Co-Cathedral Music on Vimeo.