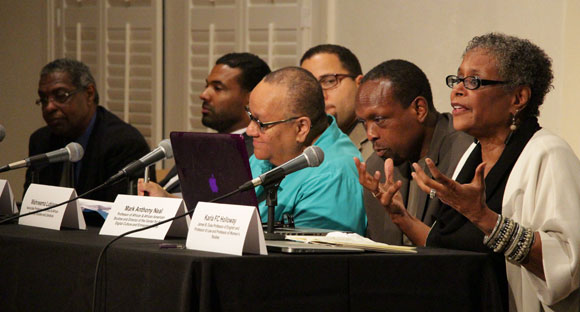 Oppression, racism, unconscious bias and the impact of social media were among the topics discussed by faculty at a Monday night town hall forum on the shooting death of an unarmed African-American teenager in Ferguson, Mo.
Students and members of the Duke community packed the Nelson Music Room for more than two hours on the Labor Day holiday to hear the academics' perspectives on the shooting of Michael Brown in August and subsequent protests.
Faculty in African and African American Studies said the event was intended to help students think more critically about racism, the militarization of urban police, and organized resistance in a digital age. Audience members live tweeted the event using #Ferguson and #FergusonSyllabus.
William "Sandy" Darity, director of the Duke Consortium on Social Equity, moderated a panel including Angel Harris, professor of sociology and African American studies; Karla Holloway, English and law professor; Wahneema Lubiano, a professor of literature; Mark Anthony Neal, a professor of black popular culture; and Luke Powery, dean of the Duke Chapel.
One of the highlights of the evening was when Luke Powery, dean of Duke Chapel, sang a song of lament for Michael Brown and the "cycle of violence inflicted on black bodies."
"My hope is that we find a way to embrace our humanity again," he said.
Panelists disagreed on the appropriate response to the increasingly frequent killing of young black men throughout the country by police. Some recalled the grassroots organizing of the Civil Rights Movement as more effective than a national dialogue on race.
"This is not a time for civility," said Lubiano, a professor of African and African American studies and literature. "[It's] time for anger. There is a time to sit around the table and dialogue. Ferguson is not that situation … Ferguson is a time to push past that civility."
Organizer Karla FC Holloway, who recently wrote an opinion piece cautioning the black community to reconsider the "hands up, don't shoot" pose, said there is a physical cost to suffering oppression.
"Remember the physical cost -- and it has been studied -- in blood pressure, in what you eat, for example," Holloway said. "Understand we are valuable. Loving ourselves first is a deeply political act."
Below: A capacity audience filled Nelson Music Room in East Duke Building to hear faculty discuss the Ferguson shooting and protests. Photos by James Todd.