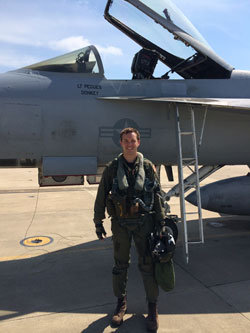 From studying landmines to flying airplanes, Duke alumnus Peter Devine is using his academic passions to guide his military career.
Devine, who received a MA in economics from Duke in 2011, is currently finishing training to become a fighter pilot for the U.S. Navy. Although his training demands most of his time, he continues to work with Research Professor in Economics Charles Becker.
"I do find that economics and the Navy work hand-in-hand very well," Devine said. "The Navy can be a very good instrument of foreign policy and a good way to affect realities in the world. Being involved with economic theory can really help inform that."
Devine's research at Duke focuses on the long-term impact of violent conflict, specifically with regards to landmines, on social outcomes in the country. He is focusing on Bosnia & Herzegovina, which experienced a civil war between 1992 and 1995 as the former Yugoslavia broke into different nations.
Using a detailed Central Intelligence Agency narrative of the Bosnian civil war, Devine coded each day of the conflict in every town in Bosnia & Herzegovina. He combined the narrative with election results, census data, geospatial data and landmine usage information to try to predict how conflict changed over time based on infrastructure and ethnic breakup.
"When a country wants to clear landmines after a military conflict, it may not be possible to remove all the landmines at the same time," Devine said. "You have to pick and choose which ones you want to remove to recover your population." He is hoping to provide insight in how to make those decisions.
He and Becker are looking at the effects landmines have had on the population and strategies for recovering from conflict. Devine said even after he completes his naval training, he will continue to be involved with the project "for years to come." Becker, Devine and their collaborator Harun Dogo from the World Bank are preparing to publish a paper and present their findings in a conference in the fall.
Although Devine's research has military implications, he said it has no direct influence on his work with the Navy since he is manning planes rather than dealing with mines on the ground. His involvement with economics, however, has given him an outlet to apply his graduate degree and keep his mind sharp.
"During intense military training, it is really easy to focus your entire life on training," Devine said. "It's good to have that mix of the sometimes Spartan lifestyle of military training and be able to go back to having those academic avenues on campus."