Alumnus Omid Safi new director of Duke Islamic Studies Center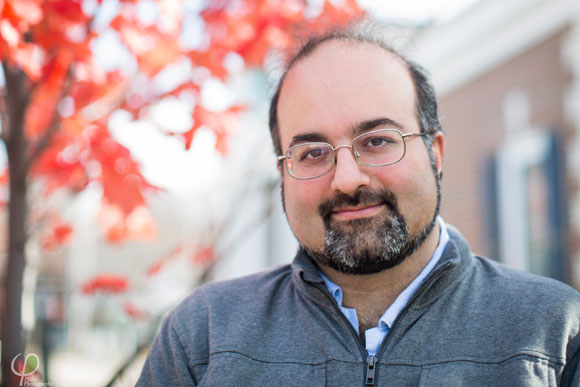 Omid Safi, (pictured) a prominent Islamic studies professor and scholar, joined the faculty of Duke this month as director of the Duke Islamic Studies Center (DISC).
As the new William and Bettye Martin Musham Director for Islamic Studies, Safi will oversee DISC, the university's hub of teaching, learning and research about Islam and Muslim communities.
Bettye Musham, whose $3 million gift supported the creation of the directorship, is also a founding member of the DISC advisory board. (For more information about the gift, click here.)
"Duke has a long tradition of extraordinary scholarship in the study of Islam. We are thrilled that Omid Safi will continue that pursuit, both in the study and translation of Persian texts as well the study of contemporary Muslim thought in American and in Iran," said Laurie Patton, dean of Duke's Trinity College of Arts & Sciences. "DISC will thrive under his leadership and vision, and we are delighted at his arrival." 
Safi received bachelor of arts, master's and doctorate degrees from Duke. Prior to accepting this position, he was a professor of Islamic studies at the University of North Carolina at Chapel Hill.
"I look forward to working with faculty and other colleagues to build on DISC's visible Islamic studies profile.  We aim to expand and deepen a program that is committed to a civilizational and public engagement with Islam," Safi said.
He expressed enthusiasm about the prospects of shared collaborations between UNC and Duke students and professors through the Duke-UNC Consortium for Middle East Studies and other joint initiatives between the schools. 
Safi, who also will be a professor in the Department of Asian & Middle Eastern Studies at Duke, will be teaching "Religion and History of Iran" at Duke this fall.
A specialist in classical Islam and contemporary Islamic thought, Safi's research on American Muslims; Prophet Muhammad and the Qur'an; debates in contemporary Islam; and Sufism and Persian literature has been published in academic publications.  His forthcoming books include "Makers of Modern Iran" and "Rumi: Sufi Saint, American Icon." 
Safi has also been a frequent speaker on Islam in popular media, including in The New York Times, Al Jazeera, The Washington Post, BBC, NPR, NBC and international media. He also is active on social media and as a blogger, is a lead Islam writer for the Huffington Post, and his column "What Would Muhammad Do?" (http://omidsafi.religionnews.com) has been a regular Religion News Service feature.
The Duke Islamic Studies center lists more than 40 core and affiliated faculty across a range of departments and schools at Duke, and is committed to interdisciplinary teaching and learning.  DISC also hosts a public scholarship initiative, the Transcultural Islam Project, whose public face is ISLAMiCommentary.org. This project is funded by the Carnegie Corporation.
The center's faculty are drawn from the fields of economics, political science, public policy, cultural anthropology, sociology, religion, history, Middle East studies, African & African American studies and Slavic & Eurasian studies. 
Safi succeeds outgoing interim director Gilbert Merkx, who will continue as director of International and Area Studies at Duke and as professor of the practice in the sociology department.