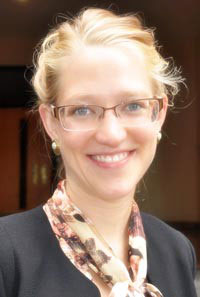 Danielle Thomsen
Political moderates rarely run for Congress anymore, the victim of extreme polarization on both sides of the political aisle, according to new research from Duke University.
Those in the ideological middle have all but vanished from Congress as political extremists are replaced by fellow political extremists, according to the study, which appears online in The Journal of Politics (viewable at http://bit.ly/VV6oLz).
The study examined the decision to run for Congress among state legislators, who are in the traditional "pipeline" to congressional office.  One motivation for the research was to find out why polarization has grown so intense over the past few decades, said study author Danielle Thomsen, a post-doctoral fellow in Duke's political science department.
Examining data from 2000 to 2010, Thomsen found that ideologically moderate state legislators were significantly less likely to run for higher office than those at the ideological poles. 
Specifically, a conservative state legislator with beliefs similar to those of Rep. Paul Ryan, R-Wisc., was nine times more likely to run for Congress than a state legislator with more moderate views like former Sen. Olympia Snowe, R-Maine, the study found. 
For Democrats, the disparity was less pronounced, but candidates would still be more likely to hold liberal political views in line with Rep. Nancy Pelosi, D-Calif., and less likely with former Rep. Bart Gordon, D-Tenn. The probability that a Democratic state legislator like Pelosi ran for Congress was still five times greater than for the comparatively more moderate Gordon, Thomsen found.
"These trends do not bode well for the future of congressional policymaking," Thomsen said. "The abstention of moderates from the candidate pool -- and the selection of ideologues into the candidate pool -- suggests that partisan polarization is here to stay."
The study also found that those who raised more money as state legislators and those with more experience as state legislative candidates were more likely to seek higher office, as were state legislators who were under term limits.
One factor that shapes a person's decision to run for Congress is "ideological conformity with the party," Thomsen suggests. As both congressional parties have moved closer to the extremes, room for moderates has almost disappeared.
To show how far to the right the GOP has shifted, Thomsen cites past research that shows membership in the GOP's right-wing caucus rose from between 10 and 20 percent in the 1980s to 70 percent of Republicans in the current Congress.  Similarly, the number of moderate Blue Dog Democrats has also waned during this time. The Blue Dogs have suffered substantial losses in recent years, and its membership has shrunk to 19 today, down from 54 in the 111th Congress (2009-10).
###
CITATION: Danielle Thomsen, Duke University. "Ideological Moderates Won't Run: How Party Fit Matters for Partisan Polarization in Congress." The Journal of Politics. DOI: 10.1017/S0022381614000243. The article can also be found in Duke Space, the university's online research archive.  Click here for the article.