Employee Fans Boost Duke Football
Discounted season tickets available for faculty, staff
Season tickets for the 2014 Blue Devil football season are on sale, and Duke faculty and staff can purchase seats at Wallace Wade Stadium for $110 per season ticket. That's more than half off the regular $250 season ticket price for seven home games.
In addition to a special price, all reserved employee seats are in sections 3 to 10, which span the middle of the field between each 20-yard line. As an added benefit, all employee season ticket holders receive stadium chairback seats.
If you're looking forward to cheering on the Blue Devils as the team seeks its third-straight berth to a bowl game, here's how your support helps to boost on-field performance of Duke's stars. (Click to enlarge)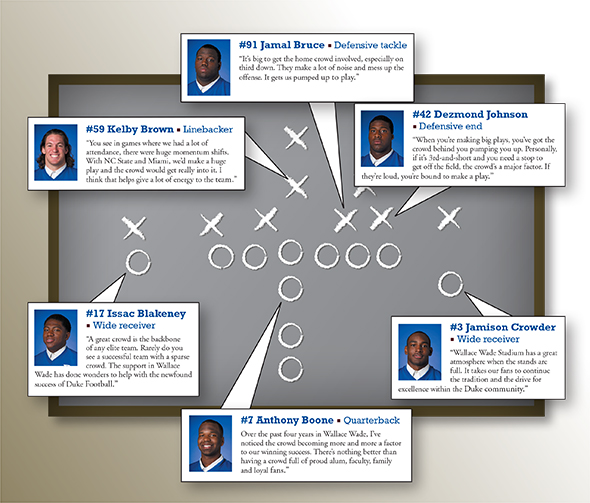 Get Your Tickets
Faculty and staff can purchase discounted tickets by calling (919) 681-2583 or visiting the Duke Athletics Ticket Office in Cameron Indoor Stadium. For the 2014 Duke Football schedule and more, visit goduke.com.