Save Money on Your Next Haircut
Duke Barber Shop offering 20 percent discount through August
When clients recline their heads in his shampoo bowl, Alvin "Mr. Bonez" Pitts Jr. can feel the exact moment they relax through his fingertips.
Hairdressing isn't just an occupation for Bonez; it's an intimate and spiritual experience that depends on a high level of trust.
Read More
"The customers are coming for that relaxing, calming experience, and it's up to me to give them that," said Bonez, a barber and cosmetologist at the Duke Barber Shop. "When you're in someone's personal space that much, I think there is a connection made there and it evolves into comfort."
Through August, Duke employees can unwind and tidy up their mane in the 50s-inspired barbershop with a 20 percent discount. Haircuts start at $19 for men and $30 for women. The shop also provides a variety of options including shampoo, style, blow dry and perms. With three barbers and one female stylist, the shop services all hair textures.
Bonez – named for his bony figure during childhood – began working at the Duke Barber Shop in December when the shop, originally established in 1912, moved from the basement of the West Union Building to the bottom floor of the Bryan Center.
The relocation has caused a slowdown in traffic, but Bonez said he knew Duke was where he wanted to be when he met the shop's manager David Fowler, a fixture at the shop for 55 years. Fowler reminds Bonez of his grandfather.
"Dave Fowler is one of the kindest people I've ever known," said Chief HR Officer Stephen Smith, a client of Fowler's for 15 years. "In addition to being a terrific barber, he's also a compassionate listener and constant optimist.  Spending 30 minutes in his barber chair is as refreshing and uplifting as a full day of vacation at the beach."
The Duke Barber Shop is on West Campus in room 002J in the Bryan Center across from the student mailboxes.
Meet the Barbers: Listen to their personal stories about serving Duke customers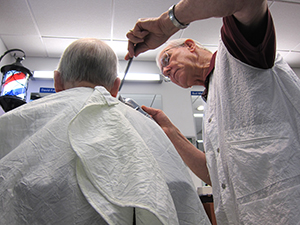 David FowlerFowler is celebrating his 55th year as a Duke barber and has cut the hair of thousands of students and employees, numerous basketball coaches, and five Duke presidents. Listen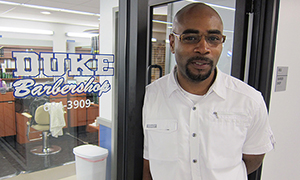 Alvin Pitts Jr. Alvin "Mr. Bonez" Pitts Jr. said his main goal while working at the barbershop is to eventually be able to offer any type of service imaginable.Listen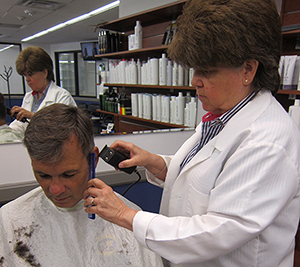 Johnsie SowderJohnsie Sowder, a cosmetologist, began working at the Duke Barber Shop in February of 1992. Since then, Sowder has learned how to do a taper cut by observing her co-workers.Listen