Staff Working to 'Green' Their Workplace
More than 60 locations at Duke have a Green Workplace Certification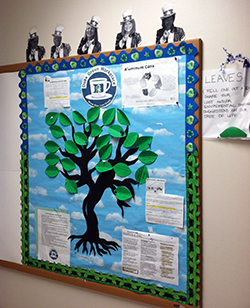 Poised above the bulletin board on Duke Hospital's 8100 wing are five smiling faces inside an "Uncle Sam" cutout with a "I want you" finger pointing towards onlookers.
Read More
The images are just a small part of a special "Tree of Life" bulletin board in the 8100 hallway to showcase how staff want to make a difference at Duke to create a more sustainable workplace. The "tree," a paper cutout, features suggestions on sustainable steps to help Duke cut back waste and be more environmentally friendly.
"Cut off the lights in patient bathrooms when not in use," reads one. "Bring your own water container or coffee mug instead of using Styrofoam and plastic," suggests another.
It's a step for six members of 8100's "green team" to keep sustainability at the forefront of their actions almost three years after they were among the first Duke units to receive a Green Workplace Certification, which recognizes work areas that formally assess how they can reduce their carbon footprint.
"I think we've changed the culture of our area where it's easier for people to talk about sustainability and practice it," said Amy Lett, a registered nurse who has helped organize sustainable changes with coworkers like Paula Wray, who designed the Tree of Life board. "We'll talk about it more in conversations because now it's a topic more accountable to our daily lives."
Lett and her staff work in just one of the 65 green certified workplaces across Duke, which earn certification by taking at least 40 of 58 sustainable steps as recommended by Duke's sustainability office. The checklist contains a variety of options, from having faculty and staff adjust power settings on their computer to making sure employees print on both sides of paper.
All faculty and staff can participate in the Green Workplace Certification program, which requires an employee attend one of Sustainable Duke's free "Leading for Environmental Sustainability" workshop. Casey Roe, outreach coordinator for Sustainable Duke, said she's also in the process of planning upcoming topic-specific workshops, including one on alternative transportation. All Duke employees can also recommend topics by emailing sustainability@duke.edu.
"A sustainability certification can be used as a ruler to measure current efforts and help a group of employees become sustainability leaders," Roe said.
Since receiving their Green Workplace Certification in October 2011, Lett said she and her coworkers haven't forgotten about focusing on sustainability. Along with their Tree of Life board, they've also created a pledge specific to the 8100 unit that has helped guide their actions. The pledge lays out about 20 sustainable behaviors like notifying maintenance staff of any water leaks, recycling all paper in a confidentiality shredder and recycling or donating unused supplies.
"We also frequently send out a newsletter to staff with updates, tips and encourage people to go to sustainability workshops," Lett said. "It's a matter of doing enough little things over time that will add up."