Duke in Pictures: 'Coffee with a Cop'
Duke Police officers hold information session with employees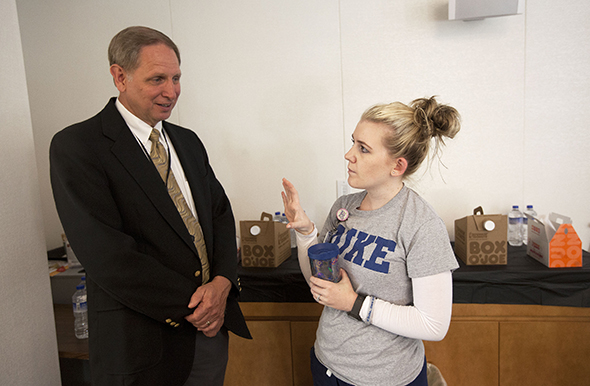 The Duke University Police Department hosted a "Coffee with a Cop" meet-and-greet this week with employees at the Duke Cancer Center.
Above, Eric Hester, crime prevention officer with Duke Police, chats with Kelly Sullivan, a clinical nurse at the Cancer Center. Hester said he enjoys the one-on-one interaction of events like Coffee with a Cop because it allows him and his coworkers to better explain the services Duke Police offers and the police department's role on campus.
"It's an important customer service we want to offer the Duke community," Hester said. "We're not just answering calls or policing the community, we want to help employees problem solve and alleviate concerns people have."
Below, Duke University Police Chief John Dailey speaks with employees about department services and how faculty and staff can partner with Duke Police to create a stronger sense of safety on campus.
In addition to in-person events, employees can use a variety of resources on the Duke Police website to learn more about campus safety. The site includes information about crime prevention, outreach programs like the Citizens' Police Academy and how to get personal items engraved for free.