Duke in Pics: Recruiting Competitors of the Valor Games
Human Resources staff meet active-duty service members and veterans at Cameron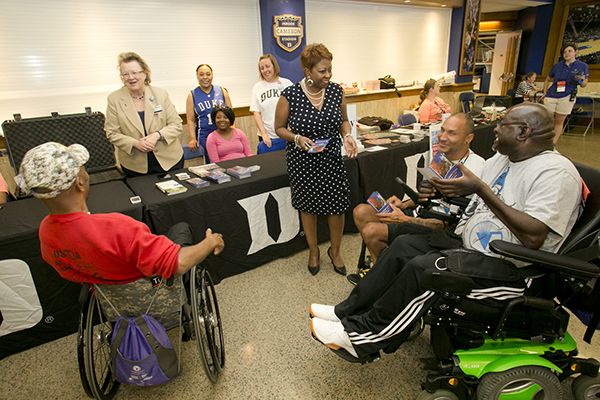 Denise Motley isn't the first person to scout new talent inside Cameron Indoor Stadium, but on Wednesday, she was looking to fill a few roles off the court.
Motley, Duke's director of Recruitment and Staffing, handed out university brochures inside the historic Duke athletic complex to active-duty service members and veterans. They were competing in the Valor Games, a 3-day event in the Triangle where wounded, ill and injured service members participated in Paralympic sports such as archery, powerlifting, indoor rowing and table tennis.
When she wasn't handing out materials and talking to participants with Duke Recruitment and Duke Disability Management System staff, Motley watched the competitors aim bows and arrows at targets or bench-press more than 200 pounds.  She said she met a service member from North Carolina who was going to college to eventually teach children with disabilities.
"This is an opportunity to try and recruit veterans and individuals with disabilities," Motley said. "Duke, as an employer, has a responsibility to look at the skillset they had in the military and see how it can transfer into the city of Duke."
From left to right in the photo is Sally Allison-Bland, assistant director of Duke Recruitment; Shonda Desir, director of employment and visitor accommodations for Duke's Disability Management System; Leigh Fickling, executive director of the Disability Management System; and Denise Motley, director of Recruitment and Staffing. Seated in the photo is Michelle Jordan with the Duke Professional Development Institute. / Photo courtesy of Les Todd, Duke Photography