Trees Original to West Campus to be Removed, Reused
Nearly 100-year-old trees to have second life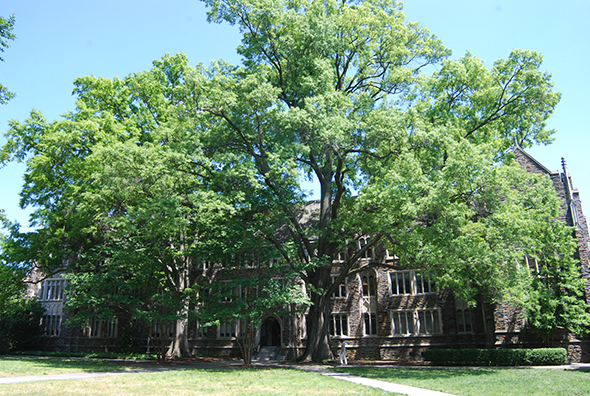 In front of the Sociology-Psychology Building, a nearly 100-year old tree, right, will be removed due to decay. Photo by Bryan Roth.
As part of Duke's ongoing work to maintain healthy trees on campus, two trees will be removed this week from West Campus due to wood decay.
Two Willow Oak trees were among original plantings on West Campus and are about 100 years old. Both trees, known as "overly mature" at this stage, contracted fungal infections and will be taken down with the wood used on campus and in the Durham community. Facilities has monitored the health of the two trees and others across campus using a sonar technology called "tomographs" to look inside the trunk and test for rot.
One tree is in front of the Sociology-Psychology Building while another is alongside the Allen Building.
A tree by the Allen Building will be removed this week. Photo by Bryan Roth.
Work on removal of the trees will take place this week. After each tree is cut down, the stumps will be ground and new trees will be planted in their place. Once they're taken down, the old trees will be recycled.
"One hundred percent of the trees will be reused," said Katie Rose Levin, natural resource manager with Facilities Management. "We work closely with groups across campus and the city to make sure our trees find a good home for their next life. We walk the walk of being 'green.'"
Along with being used as mulch and lumber for campus projects, portions of the trees will be donated to Durham's Museum of Life and Science, where tree trunks will be used for play areas in the museum's Hideaway Woods.
Duke's tree care policy has helped it remain a Tree Campus USA location for six-straight years.