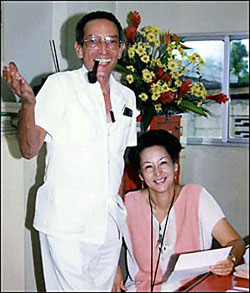 Several years after a Duke scholar helped Haiti reengage with its Declaration of Independence, a new collection in Rubenstein Library's Human Rights Archive is being celebrated by the tiny island nation's democracy activists.
The announcement that tapes, archives and other documents from Radio Haiti will be preserved at Duke and made accessible online made headlines in Haiti this week. One newspaper this week wrote simply, "Duke Returns a Voice to Radio Haiti."  
Radio Haiti wasn't a normal radio station.  For decades, against a backdrop of assaults and arrest by first the Duvalier dictatorships and then by military regimes that followed, Radio Haiti kept the hope of democracy alive in the country. It was the first radio station to deliver news and commentary in Creole, the language most people there speak, and was one of the few places where political discussions could be heard during authoritarian rule.
At a ceremony Thursday marking the donation, Duke Professor Laurent Dubois said he was surrounded by "heroes and magicians" who made the donation possible against steep odds. The gift was evidence, Dubois said, that libraries are not just for research and archiving but can "contribute to human rights and democratic movements."
Dubois' hero was Michele Montas, station co-anchor and widow of Jean Dominique, who turned the station into the force for political activism.  That work came at a cost to both as they were exiled twice from the country. Thursday's ceremony marked the 14th anniversary of Jean Dominique's assassination, believed to be a result of his pro-democracy activism.
There were no independent news sources under the Duvaliers', and no station was strong enough to transmit across the island, Montas said. Radio Haiti changed that.
Dominique was an out-of-work agronomist who, to get a job, became involved in a rural, all-music radio station.  In 1970, he bought the station and built a radio antenna high enough to be heard across Haiti.  And he started covering news.
"It was a slow process to expand the freedom of the press," Montas said.  "First we started just covering cultural news, interviewing artists and writers. Then we started to look at social issues.  And finally, slowly, we got into political issues.  But we couldn't talk about Duvalier.  So we covered what was going on with the Sandinistas in Nicaragua, because that showed the people that dictators do fall from power."
At the time, radio was the only effective way to communicate across the island.  Literacy rates were low.  The Catholic Church had donated transistor radios to many rural villages so that the people could listen to religious broadcasts, but Montas said many in the village gathered instead to listen to the news on Radio Haiti.
"Radio Haiti gave voice to voiceless," Montas said. "Because we had news in Creole, because we could bring microphones to rural areas, because could broadcast to the entire country, we opened a sphere that hadn't been open before.  People started connecting to each other.  We would do an interview with coffee grower in one area, then with one in another area and they both would listen and realize that they were being paid different prices by people selling coffee.  It helped create a revolution, a slow one but a revolution."
Dubois' "magicians" were Duke library staff members who are cleaning and preserving the tapes and other material and ultimately digitizing them so they can be available in Creole to the people of Haiti and the world. The project will be led by library preservationist Craig Bearden and Human Rights Archivist Patrick Stawski.
It won't be easy.  The tapes survived the Haitian security forces in 1991 who ransacked the building.  They survived earthquakes and hurricanes.  And for the past several years, they have been lying semi-exposed in Montas' garage.
But in what Stawski called a miracle, the tapes remain in decent condition.  The restoration and digitization has begun and soon, interviews and news reports will be available online.
"You can feel the energy of Jean Dominique in this collection," Stawski said.  "It's very inspiring."
Several Haitians in attendance at Thursday's ceremony talked about the importance of Radio Haiti and their pleasure that the old programs will again be available to remind Haitians of their struggle for democracy.  Haiti has made progress since the fall of the Duvaliers and later military regimes, but the road to freedom is a long one, Montas said.
"I think [donating the archives] is the best decision I've made in a long time," she said.  "Duke is best place for them to be, the end result is that those archives will be available for all the public.  Everyone in Haiti could have access to Jean Dominique and his programs."
For more information about the Radio Haiti gift, click here.