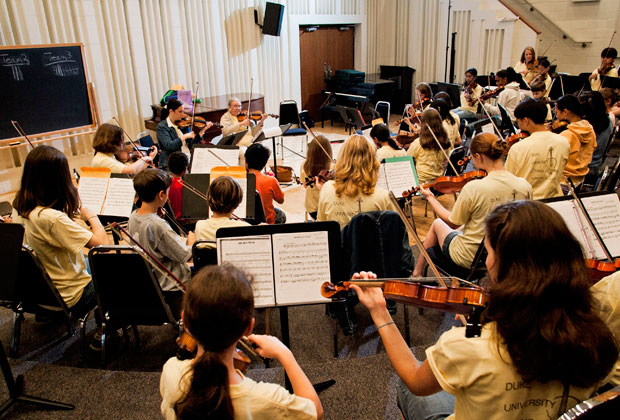 Caption: Dorothy Kitchen teaches during the Duke Summer Strings Camp in 2007 at Bone Hall in the Biddle Building on East Campus. Photo by Duke University Photography
After 48 joyful years, Dorothy Kitchen is passing the baton.
A classically trained maestro of the piano and the violin who brought her love of music to thousands of Duke and local students, Kitchen will retire this weekend as director of the Duke University String School (DUSS) that she co-founded and led for nearly five decades.
Kitchen, 76, will be celebrated Saturday, April 26, with two free concerts at 3 p.m. and 7 p.m. in Baldwin Auditorium on Duke's East Campus. During the evening session, Kitchen will conduct the DUSS Youth Symphony Orchestra one last time.
"I have loved every second of what I've done," Kitchen says of her career. "I really wanted to be a teacher my whole life. And here I am."
Kitchen's influence on Duke and Durham's musical community is legendary. The Durham City Council named a day after her, she received the Durham Art Council's Lifetime Achievement Award in Music, the NCSA Award for excellence in teaching, and the Durham Symphony's Award for Lifetime Service to Music, among others.  
Her performances include solos with the Dayton Philharmonic, the Greensboro Symphony, the St. Stephen's Chamber Orchestra (now the Chamber Orchestra of the Triangle), and the Trinite Philharmonic of Haiti. And her orchestra memorably performed at a Christmas concert at the White House during the Clinton administration. 
Of all her accomplishments, she's proudest of the string school she co-founded even before it had a home at Duke. The program is open to musicians of all ages and talent levels, which is unusual for many university-based music schools. It operates a beginner's orchestra, two levels of intermediate orchestra and a youth and chamber orchestra.
"My intention was never to create an elite school," she says over tea in her kitchen one spring afternoon. Instead, the '#1 Grandma,' as her mug denotes, with an affinity for children, wanted to make classical music accessible to all. She offers private lessons to students from a room in her house, minutes from Duke's campus.
She moved to Durham in 1962 when her husband Joe, now an associate professor emeritus, took a position in Duke's mathematics department. Kitchen, who began her studies at Eastman School of Music, finished Phi Beta Kappa at Case Western Reserve University and graduated with a master's degree from Brandeis University, was already an accomplished musician.
 Dorothy Kitchen conducts Julius Conus' "Violin Concerto in E-minor" with soloist Elliot Kuan
Once in Durham, she studied for a doctoral degree and performed in piano trios and other ensembles with local musicians. Recovering from an accident that reduced her workload, she found herself teaching music to children at the YWCA day camp. By then, she had her son Nicholas, a violin prodigy and virtuoso, who was only two and half years old when he decided to take lessons. She also had a daughter, Julia, who has cerebral palsy and now lives in a group home in Boone. 
"I found I did really well with kids. They listened to me," said Kitchen, still surprised by the notion. "I never babysat. I wasn't a baby picker-upper. But I do well because I look at them as if they are complete people who have just lived a short amount of time."
She initially taught 25 students, including Nick, in a building on Duke's campus, though the school was not officially part of Duke yet.
"I'd take in whatever money we made but it was informal. We had a board, but it was not a money-making venture. People couldn't pay much," she says. "Duke codified things. My interest was in adding students and teaching."
Kitchen says arts philanthropist and opera lover A.J. Fletcher heard young Nick play and wanted to know how he could support the child virtuoso pursue his talents. As a result, the Fletcher Foundation issued a grant to the Duke music department, stipulating a program for children.
"Duke was nothing but supportive," she says. Over the years, DUSS began to grow along with the Duke music department. Several Duke music faculty, including members of the Ciompi Quartet, formed shortly after DUSS, taught at the school.
With the Fletcher grant she also started the music program in Durham Public Schools, starting with repaired instruments. She taught in the public schools for 2 years.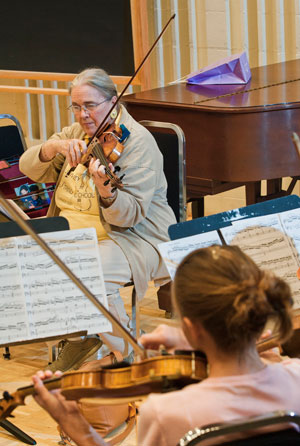 Kitchen is a classically trained violinist and pianist.
At the Longy School of Music in Cambridge, as a student and a teacher, Kitchen gained experience bringing her love of music to the community. Once established in Durham, St. Stephen's Episcopal Church sponsored trips to Haiti, where she helped young musicians hone their talent. She spent 15 summers there, "before it got too dangerous." 
Kitchen caters her teaching style to the students' needs.
"I use different vocabulary, some need touch, some need images. I'm not a method teacher," she says. She's modeled herself after her public school teacher who gave her love for the violin. "She loved what I did. She cared about my playing. And not just me, she cared about all of us."
Kitchen is still in touch with many of her students. One, Patrick Desrosiers of Haiti, is a violinist at Temple and plays all over the world. "I kept him with the violin," she says proudly. Another, Francis Hsieh, a former Duke student violinist, received a fellowship from Eastman and now plays with the Charleston Symphony.
She carries many memories of the students who passed through her program. There was the student insisted on wearing sneakers to a formal performance: "Boy, did he play!" she says. There also was the stage mom who fussed with her daughter's hair instead of allowing her daughter to rehearse her solo.  "She missed the final movement," Kitchen says with light-hearted incredulity. "She stopped 32 bars before the end."
Orchestra student Albert Yuan told her once that he and others pay close attention to her eyes during a performance.
"You have to have them. They have to be with you, on your wavelength," Kitchen says.
Although she will retire as director, Kitchen intends to continue coaching chamber music groups and giving private lessons out of her home. Her youngest student is 4 years old ("you have to have one with enough maturity to sit through a 15-minute lesson twice a week"), her oldest is 83. She has a special 11-year-old violin student --  her grandson Christopher, who she teaches remotely three times a week using iChat.
"I will miss the orchestra because I am a professional orchestra player," she says. "I will miss giving students a chance to solo. Playing a concerto is a big life event. It really is. I know how it made me feel, like the violin was important. I'll miss giving that to other people. It's a huge responsibility."
Below:The Youth Orchestra performs Haydn's Symphony No. 7.